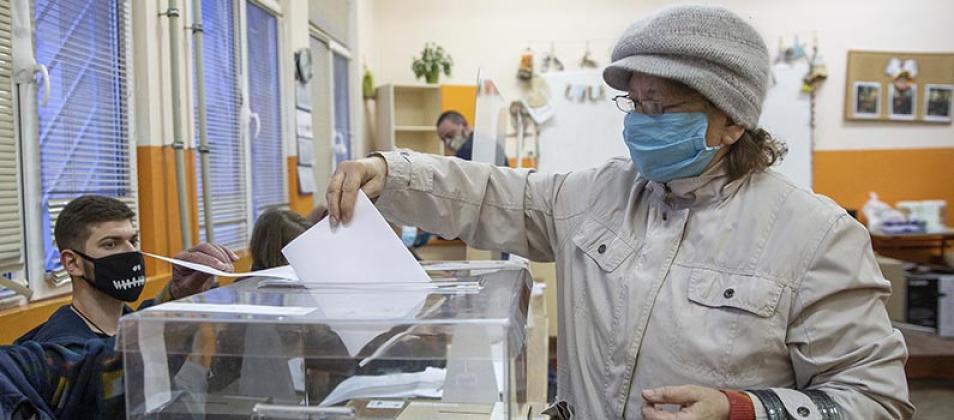 Discussion Series: Democratic Resilience in Europe
What is happening with democracy and elections in Europe? To encourage discussion and to share information about key issues in European politics, the International Foundation for Electoral Systems (IFES) holds monthly online discussions with experts and experienced practitioners, organized by its "Regional Elections Administration and Political Processes Strengthening" program and the IFES Regional Europe Office in Prague, Czech Republic. Participants have an opportunity to ask questions and voice their thoughts about the issue being discussed.
The Democratic Resilience in Europe discussion series has received broad interest and high-level participation. An array of international good practices and recommendations have been identified, and these insights have provided integral input to the actions of election management bodies, observers and advocacy groups.
Upcoming Events
Since early 2020, IFES has held regular online discussions on issues related to electoral integrity and democratic resilience in Europe. As of September 2022, 21 installments have been held with the participation of over 2,100 people from 95 countries.
"The Ambition Gap? – Barriers to the Participation of Women in Politics"
November 28 at 9:00-10:15 a.m. EST/UTC-5 & 15:00-16:15 CET/UTC+1 & 16:00-17:15 EEST/UTC+2
What are the challenges faced by women seeking to get engaged in electoral politics in European countries? With only 31% of women in European parliaments (and the share in Central and Eastern Europe is below that of sub-Saharan Africa), there is a long way to go before the legislative bodies in European countries benefit from gender equality. The situation is often even worse in local government bodies. This online discussion will engage leading European women politicians and experts on how they perceive the obstacles that exist to the political participation of women and how these can be overcome.
Join IFES for the 23rd installment of our discussion series. In this online discussion, experts and practitioners will discuss the challenges and solutions to the participation of women in politics. The event will be held live via Zoom in English. There will be an opportunity for the audience to ask the panelists questions.
Moderator
Dr. Magnus Öhman, Senior Political Finance Adviser and Regional Europe Office Director, IFES
Panelists 
Marketa Pekarová Adamová, Speaker of the Chamber of Deputies, Parliament of the Czech Republic and leader of the TOP09 party
Lolita Cigane, Former Member of Parliament and Parliamentary Committee Chair, Latvia
Laura Matjošaitytė, Former Chair of the Central Election Commission, Lithuania
Liljana Popovska, Former Member of Parliament and Chair of the Parliamentary Committee on Equal Opportunities for Women and Men, North Macedonia
Regina Waugh, Senior Global Gender Adviser, International Foundation for Electoral Systems, IFES
 
Past Events
Foreign Manipulation of Democratic Processes, Recent META Report on the U.S. and the Czech Republic
Protecting Free Speech in Europe - How to stop Strategic Lawsuits Against Political Participation
How to Build a Democracy that's Designed for All?: Promoting Access and Inclusion of Persons with Disabilities
Recent European Elections During the Pandemic: Georgia, Moldova, Romania and Ukraine
Gender Dimensions of Disinformation in Elections, Politics and the Digital Information Space
Democratic Resilience After One Year of the Pandemic
Recent Elections in Albania, Bulgaria and Cyprus During the Pandemic
Electoral Justice in Europe During the Pandemic
Parliamentary Elections and Politics in Russia
Countering Kremlin Influence in European Democratic Processes
Finding the Balance - Counteracting Disinformation without Restricting Free Speech