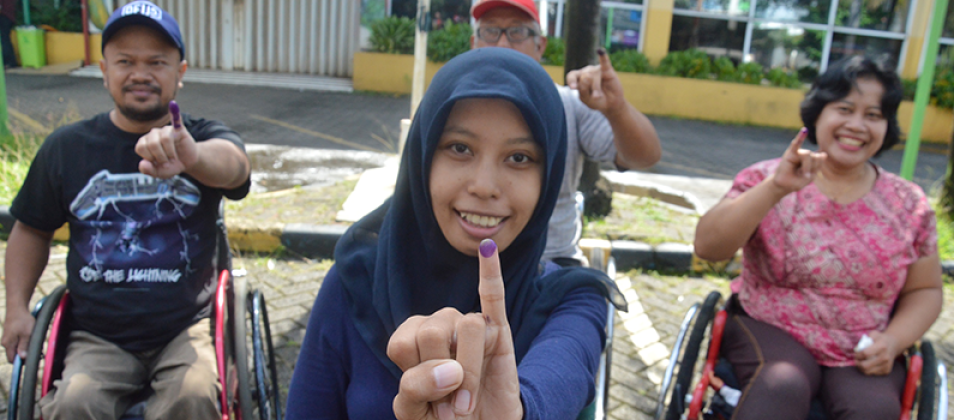 #InclusiveDemTalk, #DemocracyIs and #COVIDxDemocracy
We invite you to join us this Friday, April 24 from 10-11 a.m. EST for a Twitter chat on inclusive political and electoral participation. The chat, hosted by the International Foundation for Electoral Systems (IFES), will provide IFES partners and other leaders, policy advocates, organizations and practitioners with an opportunity to share experiences, best practices and lessons learned on empowering marginalized groups such as youth, women, persons with disabilities, indigenous people and displaced persons in political life.
The United States Agency for International Development's (USAID) #DemocracyIs communication campaign, which runs through International Day of Democracy on September 15, 2020, highlights the impact of practitioners and advocates worldwide. Each month the campaign is focusing on a different theme related to democracy. This month, IFES joins USAID's campaign to celebrate the themes of "Inclusion and Empowerment" and "Free and Fair Elections."
Informing and empowering voters is critical to building healthy and resilient democracies which flourish when all groups of society are represented. How do we ensure that political rights of the most marginalized people are protected during and after the COVID-19 pandemic? The #InclusiveDemTalk Twitter chat will explore answers to this question and raise awareness about the importance of strengthening democratic governance for development—especially during times of crisis.
As @IFES1987 posts questions, please join the conversation by using the hashtags #InclusiveDemTalk, #COVIDxDemocracy and #DemocracyIs. We look forward to chatting with you on April 24!
Want to show your support for inclusive political processes? Share the following sample posts with your networks:
#COVID19 disproportionately impacts marginalized people.
I join with @USAID & @IFES1987 to support elections that are inclusive & benefit all #COVIDxDemocracy #DemocracyIs
Follow/Join #InclusiveDemTalk at @IFES1987 4/24 10-11am EST
www.IFES.org/covid-19
@USAID and @IFES1987 know #DemocracyIs inclusion & empowerment. #COVID19 threatens public health and participation in democracy – esp. #EqualRights
#COVIDxDemocracy
Join the conversation 4/24 10-11am EST when @IFES1987 hosts an #InclusiveDemTalk
www.IFES.org/covid-19
Learn more about IFES' work during COVID-19.