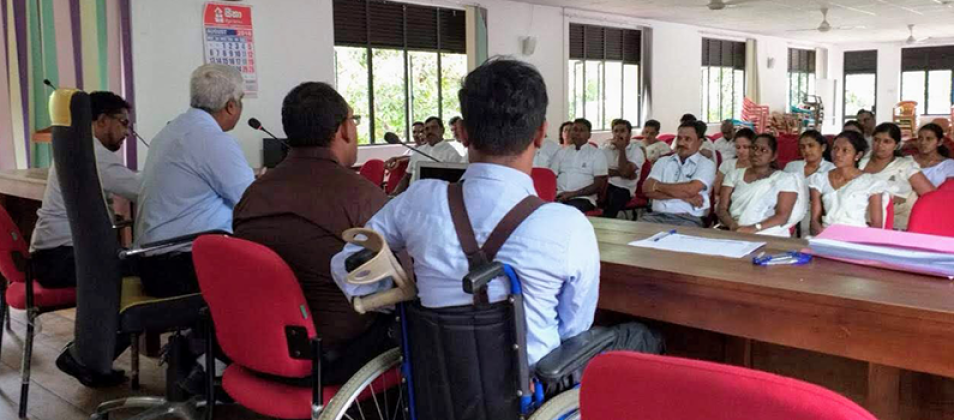 Accompanying Sri Lankan Electoral Institutions Toward Successful Reforms
International development assistance providers widely recognize that designing democracy and governance initiatives to complement a country's own identified priorities, rather than a pre-prescribed set of objectives, is critical to a program's sustainability and effectiveness. This commitment to orienting programming around locally identified needs is reflected in numerous policy platforms and strategies. The United States Agency for International Development's 2013 Strategy on Democracy, Human Rights and Governance, for example, calls for a country-based approach that moves beyond application of "global priorities." Similarly, the Paris Declaration on Aid Effectiveness identifies the importance of increasing foreign aid's alignment with "partner countries' priorities, systems and procedures." However, despite the widespread recognition of the importance of locally driven and responsive initiatives, democracy and governance programs do not always prioritize this focus, with negative impacts on the sustainability of program outcomes.
As outlined below, the International Foundation for Electoral Systems' (IFES) ongoing work in Sri Lanka, through which it partners with the Election Commission (EC) to strengthen transparency, electoral integrity and inclusion in the democratic process, demonstrates four strategies that, taken together, anchor electoral reform initiatives in local priorities, international standards and comparative examples. This intentional approach has enabled IFES to contribute to numerous EC-led achievements, including the EC's recent indication that it plans to adopt new voter registration forms nationwide to obtain information needed to mitigate electoral barriers for persons with disabilities.
Strategy 1 – Ensure programming builds on existing institutional commitments. International assistance should align with and support existing national strategies and commitments. In 2016, the EC launched its first strategic plan, which outlines over 40 objectives that provide a comprehensive road map of actions for the EC to take to mitigate electoral vulnerabilities. At the EC's request, IFES provided technical support to the strategic plan development process. Following its adoption, IFES' program activities – which range from advising on strengthened campaign finance provisions and abuse of state resources to supporting voter education outreach to women, youth, persons with disabilities and tea plantation workers – have all been oriented around the commitments laid out in the EC's strategic plan.
Strategy 2 – Connect programming to both international commitments and standards and national law. International human rights frameworks provide numerous protections for democratic rights. Article 21 of the Universal Declaration of Human Rights, for example, outlines the right to periodic and genuine elections, by universal and equal suffrage and through secret vote. However, while these principles provide a useful framework for best practices in election administration, the principles resonate best when also linked to national laws and policies. IFES' technical assistance highlights the complementarity between international human rights frameworks and compliance with national legislation, such as constitutional rights to equal treatment, nondiscrimination and universal suffrage to all eligible citizens.
Strategy 3 – Emphasize genuine collaboration between the election management body (EMB) and other electoral stakeholders. While election-related initiatives and developments are generally EMB-led, initiatives are often most effective when other relevant electoral stakeholders – including media, civil society, election observers and legal professionals – are also engaged in the process. As an example, in 2018, IFES and the EC established a technical working group on election dispute resolution (EDR), which brings together the EC, the Bar Association of Sri Lanka, the Human Rights Commission, the attorney general's department and election observers to collaborate on new EDR provisions and procedures that are on track to be adopted during the 2019 elections. Similarly, in 2017, IFES worked with the EC and a network of disabled people's organizations to form a technical working group on disability-inclusive elections (DIESL). Since its founding, the DIESL technical working group has met regularly to further bolster and inform the EC's electoral accessibility work. Such proactive outside engagement helps ensure that electoral solutions are jointly owned and synchronized across stakeholder groups.
Strategy 4 – Engage partner EMBs in regular review and adaptation of IFES' programming. Shifting electoral timelines, availability of resources and political contexts require EMBs to constantly adapt to effectively deliver on election administration priorities through all stages of the electoral cycle. As a partner of the EC, IFES seeks a similarly adaptive programming approach to ensure that it is consistently responding to the EC's current challenges and priorities. For example, IFES regularly presents proposed activities to the EC's leadership for their feedback and engages the EC's own technical focal points – who cover areas such as monitoring and evaluation, information technology and outreach to women, youth and persons with disabilities – in the development of its program activities.
Case Study: Sri Lanka EC identifies new provisions to promote electoral accessibility.
Sri Lanka's 2017 Convention on the Elimination of all Forms of Discrimination Against Women Shadow Report on Women with Disabilities highlights that voters with disabilities face multiple barriers in accessing the electoral process and independently exercising their franchise. While the EC's strategic plan includes a commitment to promoting the electoral rights of persons with disabilities, key accessibility barriers for voters with disabilities remain largely unaddressed in Sri Lanka's elections. One of the primary challenges to addressing electoral barriers is the lack of reliable information about the number – or specific electoral needs – of persons with disabilities in Sri Lanka. To address this gap, in 2019 the EC indicated that, for the first time, it plans to adopt new voter registration forms, known as enumeration forms, nationwide to systematically collect electoral data on persons with disabilities and, in so doing, enable the EC to identify specific accessibility needs in future electoral cycles. As outlined below, this decision was informed by IFES' ongoing inclusion work, which is consistently oriented around the EC's strategic plan, framed by national and international principles, and engaging EMB leadership and non-EMB stakeholders in the design and implementation of program activities.
In 2018, IFES worked with the EC to conduct a pilot voter registration data collection initiative in four of Sri Lanka's districts to test the updated enumeration form that collects information on citizens with disabilities. The updated form was designed to support the EC in meeting its strategic planning objectives related to inclusive voter registration and improving electoral accessibility of persons with disabilities. As part of the pilot, IFES and the EC trained Grama Niladharis – public officials who are responsible for conducting door-to-door voter registration each year – on how to utilize the updated enumeration form to capture information on voters with disabilities. The training sessions also raised awareness about the political rights of persons with disabilities, referencing national laws as well as the United Nations Convention on the Rights of Persons with Disabilities to underscore the rights of all citizens to vote and be elected. Led by the EC's own disability focal point, who is a senior EC representative, the trainings were also designed and facilitated in partnership with DIESEL members. The DIESL group includes representatives from local disabled people's organizations and was established specifically to coordinate ongoing accessibility work with the EC.
After completion of the voter registration initiative, IFES and the DIESL group collected and analyzed nearly 200 data forms from the four pilot districts and, drawing on the data, presented recommendations to the EC of district-level measures that would substantively improve Election Day accessibility. The EC has since indicated that it plans to update the enumeration forms nationwide to more systematically capture data on voters with disabilities in future voter registration cycles. Led by the EC, the institutionalization of the new forms would better enable the EC to meet its core strategic plan commitment by using data to mitigate some of the barriers to electoral accessibility, while also serving as a best practice model for other EMBs and government institutions.