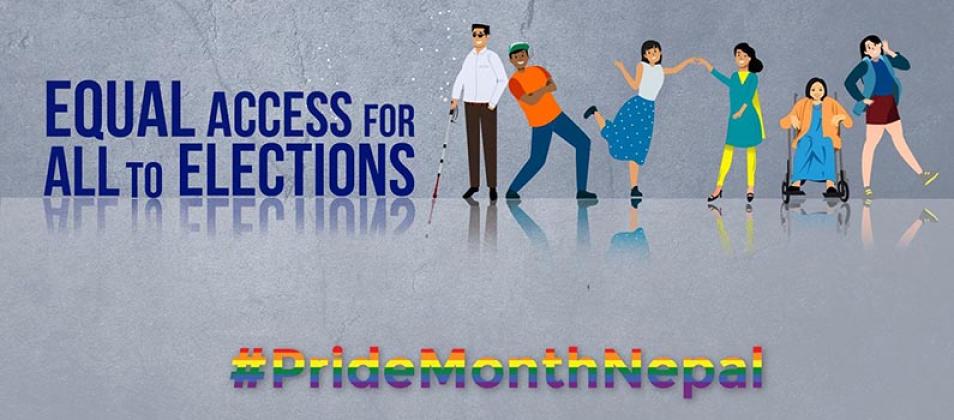 Advancing LGBTQI+ Inclusion in Elections in Nepal
The adoption of Nepal's 2015 constitution presented new opportunities to increase inclusion in political and electoral processes at all levels of government. However, despite constitutional provisions enshrining equal rights and mandating greater inclusion of all populations, many still face barriers to meaningful democratic participation.
The lesbian, gay, bisexual, transgender, queer and intersex (LGBTQI+) community in Nepal faces a variety of challenges when it comes to participating in political and electoral processes. For example, changing gender markers on required documentation to match an individual's gender identity is challenging. While the Nepali law allows individuals to change their gender marker, onerous and bureaucratic processes make it prohibitively difficult for many. The community also reports discrimination and hate speech aimed at LGBTQI+ individuals to suppress their participation in civic and political life. To bring awareness to these challenges during Pride Month in Nepal, as well as to collaboratively identify solutions, the International Foundation for Electoral Systems (IFES) held two virtual workshops on "Advancing Equality and Inclusion in Elections in Nepal" in partnership with the Election Commission of Nepal (ECN) and Nepali LGBTQI+ organization the Blue Diamond Society (BDS).
Participants discussed the challenges members of the LGBTQI+ community face in participating in political and electoral processes and possible ways to support greater inclusion. The workshops – held on June 18 and 25 – were the first multistakeholder dialogues held in Nepal on LGBTQI+ inclusion in elections and included representatives from BDS, IFES' local partner organizations, election commissioners and other staff from the Election Commission of Nepal (ECN). Through these events, IFES and BDS aimed to engage stakeholders in advocating for greater inclusion in elections and enacting policy changes to facilitate LGBTQI+ individuals' active participation in elections, informed by recommendations from the LGBTQI+ community.
"Thank you for expressing your concerns so clearly. It is important that we know what the ECN can do to ensure meaningful participation of the LGBTQI+ community in elections be submitted. I would like to express my and the ECN's commitment to collaborating with you to address your concerns."
– Honorable Election Commissioner Dr. Janaki Kumari Tuladhar
Following presentations from BDS and discussions in breakout sessions on election topics such as ensuring voter education activities are inclusive and strategies to counter hate speech and disinformation against the LGBTQI+ community in elections, participants recommended solutions to increase LGBTQI+ inclusion in elections. The recommendations included orienting election administrators on LGBTQI+ issues; including strong provisions against discrimination toward LBGTQI+ voters and candidates in election directives and codes of conduct; developing inclusive voter education materials, such as videos, infographics and songs, with LGBTQI+ representation; and encouraging members of other marginalized communities to voice their support for advancing LGBTQI+ rights and inclusion.
The two discussions culminated in an event held by IFES, members of BDS and Consortium for Elections and Political Process Strengthening partners, during which they presented the full list of recommendations to 15 lawmakers, including members of the federal Parliament and provincial assemblies. The event provided a platform for BDS to communicate the challenges to LGBTQI+ participation in political and electoral processes and introduce recommendations to lawmakers. The lawmakers expressed their support for the LGBTQI+ community and their commitment to drafting legislation to promote LGBTQI+ participation in political and electoral processes.
"We must create a unified law protecting the rights of LGBTQI+ individuals, which we will introduce in the Parliament."
– Prakash Pantha, Member, National Assembly
IFES and the ECN will use the recommendations from the workshops to inform discussions and electoral reforms to make electoral and political processes more inclusive for the LGBTQI+ community.
IFES' election support activities in Nepal are supported by the United States Agency for International Development.
Published on August 11, 2021.