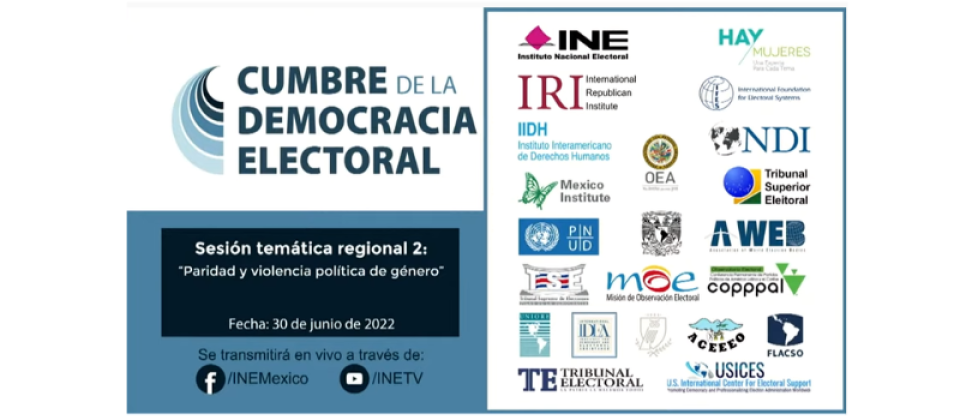 News and Updates
Interview/Speech/Testimony
Anthony Banbury Addresses Regional Forum for the Americas
Banbury: "It is no longer enough to point out that democratic backsliding is happening. We must focus more and more on why it's happening, and what we're going to do to change it."
On June 28, Anthony Banbury, president and CEO of the International Foundation for Electoral Systems (IFES), addressed the Regional Forum for the Americas of the Electoral Democracy Summit, one of five regional forums organized under the Global Summit for Democracy 2022.
Banbury noted in his remarks that democratic actors must grapple with the causes of democratic decline. These include the failure of elected governments to deliver for their citizens and a destabilized information environment, among others. He highlighted the need for collaboration between governments, civil society, academia and the private sector to come up with creative ways to support democracy together.
His remarks are below.
Anthony Banbury:
"I'd like to thank President Councilor Lorenzo Córdoba and all our friends at the National Electoral Institute of Mexico.
I would also like to extend my warm greetings to all the distinguished partner organizations for their contributions to this important and very timely regional forum.
And finally, I'd like to make a special acknowledgement to former President of Costa, Rica Luis Guillermo Solís. It is a great honor to have you among us.
The National Electoral Institute of Mexico (INE) has consistently shown its commitment to delivering inclusive and transparent elections for one of the world's largest democracies. They have continued to achieve very important successes in the face of serious challenges, including last year's midterm federal elections, two consecutive popular consultations and recent state level elections in six states just this month.
This commitment by INE is underpinned by its willingness to share its global expertise and approach to election administration, facilitating spaces for profound dialogue on the status of democratic elections in this region and around the world.
I want to thank you again for organizing this series of regional forums, culminating in the global forum Manuel just described.
Democratic backsliding in Latin America and around the world is well documented now. It's clearly established; there is a lot of good academic literature and reporting on the topic, including from International IDEA, Freedom House and others.
I won't spend time telling you what you already know about the state of the world's or Latin America's democracies. I'll share just one statistic right now: 80 percent of the world's population lives in countries or governments characterized as 'partially free' or 'not free.'
This has a profound effect on society and people's lives.
We understand the impact of democratic backsliding: weakening independent institutions, increasing political repression, the shrinking space for civil society, restrictions on free media and journalism and the suppression of fundamental liberties and rights. The impacts of democratic backsliding vary from country to country, but it is happening around the world, regardless of their stage of democratic development. It's happening in so-called advanced democracies. Today, I'm addressing you from Washington, D.C., and in the U.S., we see evidence of very worrisome democratic backsliding. We see gerrymandering of electoral districts to lock in power for the minority; lack of accountability for police-committed crimes; and an erosion of respect for key democratic institutions and basic rights.
So, we all recognize that backsliding is happening. It's happening in countries and regions around the world. It's very serious, and its impacts worry us greatly.
But we need to understand the causes of the backsliding in order to address it.
Every region, of course, has its unique characteristics. While we can't overly generalize, there are some basic conclusions I think we can draw. In my assessment, there are three main causes driving this backsliding.
First is the fundamental failure of democratically elected governments to deliver tangible solutions to the real problems faced by their people.
Secondly, the poisoning of the information environment, and the growing difficulty of distinguishing between accurate information and misinformation.
And third, deliberate, concerted efforts by some foreign actors to weaken democratic systems, offering authoritarian alternatives to democracy.
These are the highlights, but there is a lot to consider under each one. These three developments have led not just to a lack of trust in democratic governments, but to dissatisfaction with democracy itself – indeed, an indifference toward the protection of democracy. This marks a profound shift in society's views toward democracy.
I'd like to share just a couple statistics across Latin America: support for democracy decreased from around 65 percent in 1997 to 49 percent in 2020. That's a very big decrease in popular support of democracy. At the same time, satisfaction with democracy in the region dropped from 45 percent in 2009 to 25 percent in 2020. Dissatisfaction with democracy grew from 50 percent to 70 percent in that same period.
These simple statistics show a very strong trend in the erosion of popular support and trust for democracy.
Without this trust in democracy, we can at least partly understand the backsliding that has taken place. Latin America has been hit very hard by the 'punishing vote' in 14 elections in Latin America held between 2019 and 2022. In these 14 elections, the ruling party lost in every case. So, we are facing a truly profound crisis of democracy.
So, what are we going to do about it?
I think there is some good news. In a relatively short period of time, there has been a big shift in awareness of the severity of the problem and the recognition that is happening on a broad scale.
First, it was the analysts and excellent organizations like International IDEA producing reports. But gradually, awareness of threats to democracy and the backsliding happening has spread to broader popular understanding, including among politicians, legislators, aid organizations, as well as civil society and society.
A second important development is that there is now a commitment at the highest political levels to do something about this. There's an awareness, but also commitment and recognition of how serious the problem is.
Just recently, in the Summit of the Americas held in Los Angeles, there were five political declarations adopted by consensus, under the theme 'Building a Sustainable, Resilient and Equitable Future.'
The Summit for Democracy hosted by the Biden administration in December last year was also an indication of how the seriousness of this issue is being addressed at the highest political level of governments around the world.
So, we have that broad recognition of the problem. We have political will, including at the highest levels of government, and we see increasing resource allocation by governments to invest more in democratic promotion and protection.
But clearly, there's still much more that needs to be done. The key is to have a strategy that addresses it at a global, regional and national level. The strategies need to be based on sound understandings of the causes of the backsliding, and the conversation we'll have today will make a valuable contribution to developing a shared understanding of what these are.
It is no longer enough to point out that it's happening. We must focus more and more on why it's happening, and what we're going to do to change it.
Third, developing new approaches to democratic promotion and protection will be key.
New approaches and new tools need to be very context dependent. Is democracy working in an enabling environment, or under attack? Is there progress in some areas and backsliding in other areas? Is there an element of malign foreign interference? Is it simply a failure of governments to provide economic and social well-being to their people?
Adopting a deep understanding of the causes, then applying tools and a set of approaches tailored to the unique circumstances, is – in my view – essential. We have very strong tools for democratic development in enabling environments, where there's broad support for democratic development. These tools are still absolutely essential. We need to complement them, though, with new tools that are effective when democracy is under attack by authoritarians at home or abroad.
This will require new partnerships, innovation, creativity and moral courage.
It will require governments, civil society, academics and the private sector to work in new ways together to develop the kinds of tools that will, for instance, reveal where misinformation campaigns are coming from. For example, are these truly organic campaigns that reflect the voices of local people? Or, are these manufactured campaigns funded by corrupt elites of authoritarian leaders, run by companies from outside a country? These are two very different challenges, and understanding the information environment in an electoral democratic context is absolutely essential to ensuring people in a society have the benefit of accurate information.
So, I look forward to the discussions today and hearing from the speakers. I congratulate INE again for organizing this this forum.
It is now my great pleasure to introduce the keynote speaker Luis Guillermo Solís, 47th President of the Republic of Costa Rica.
Raised by a small-scale shoe manufacturer and the founder of the School of Education at the University of Costa Rica, President Solis' story truly embodies the values of the Costa-Rican identity: hard work, education, environmental preservation, respect for peace, pluralism and sovereignty.
Before he was elected president, President Solis held numerous diplomatic positions, including as Ambassador for Central American Affairs. His lengthy academic career includes nearly 30 years at the University of Costa Rica, where he held numerous positions, including a deanship.
Professor, diplomat and politician, President Solis has a wealth of democratic experience, and I know we're all looking forward to his remarks.
We are honored to have you here, President Solis.
Thank you very much."
Published July 12, 2022.