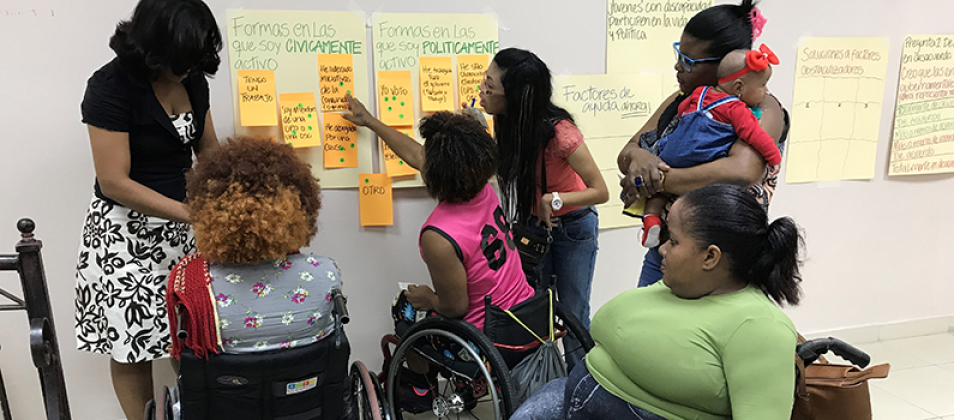 Barriers to and Opportunities for Leadership of Youth with Disabilities in the Dominican Republic
by Rebecca Aaberg and Ruby Holmes*
In partnership with Disability Alliance for Our Rights (ADIDE), a local disabled people's organization, the International Foundation for Electoral Systems (IFES), collected data on the inclusion of Dominican youth with disabilities under its program, Promoting the Political Leadership of Youth with Disabilities in the Dominican Republic. The program, made possible through the support of the United States Agency for International Development Disability Fund, is empowering young persons with disabilities to make a difference in their communities by taking a more active role in political life.
IFES contextualized the Intersectionality Assessment Framework for the Dominican Republic to examine the origins of barriers to civic engagement through key informant interviews and focus group discussions with relevant stakeholders, including persons with disabilities, political party members, government officials and youth organizations.
The assessment found that young women with disabilities were the group least likely to participate in a political party, with only 8.3 percent likely to participate versus 44 percent of adults with disabilities, 25 percent of youth without disabilities and 38 percent of young men with disabilities. Youth without disabilities noted age, nepotism and clientelism as top hindering factors and both young men and women with disabilities said accessibility and economic resources were the most important hindering factors. Appearance was another hindering factor for youth without disabilities, and young women with disabilities noted attitudinal barriers and stigma as factors.
"I think that we should raise awareness so that they consider us for the abilities we have and not for the physical disability they see in us." – Young woman with a disability who participated in a focus group discussion
Young men with disabilities were the group least likely to participate in advocacy. Only 38 percent said that they had participated in advocacy, compared to 100 percent of adult participants with disabilities who had. All young women with disabilities who participated agreed that they saw themselves as leaders in the community, while 28.6 percent of young men with disabilities selected "somewhat disagree" for the statement.
The assessment team also found that one-third of youth participants and over three-fourths of adult participants with disabilities had held a government job, but no young women or men with disabilities had.
The political leadership course for young Dominicans with disabilities will be launched in fall 2018, equipping participants with strategies for addressing barriers to political leadership, enhance their knowledge of the Dominican Republic's political and electoral systems, examine the role of elected leaders, and enable participants to develop a keen understanding of regional political dynamics. IFES is developing a course curriculum in collaboration with ADIDE using results from the Intersectionality Assessment Framework. Classroom learning will be complemented with hands-on experiences, such as visits to Dominican government institutions and guest lectures from regional experts.
*Rebecca Aaberg is a senior inclusion officer and Ruby Holmes is an intern with IFES' inclusion division.