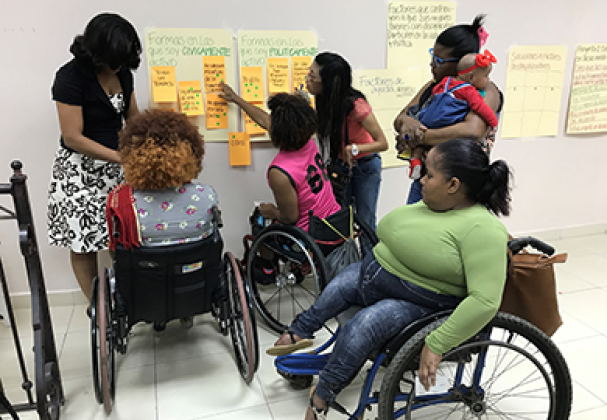 Celebrating International Day of Persons with Disabilities
The annual International Day of Persons with Disabilities, held on December 3, commemorates the human rights of persons with disabilities. The theme for this year's International Day of Persons with Disabilities is "Empowering persons with disabilities and ensuring inclusiveness and equality." For over 30 years, the International Foundation for Electoral Systems (IFES) has worked in countries around the world to support the political rights of women and men with disabilities, recognizing that all people should have an equal opportunity to contribute their voice within the political life of their communities.
In 2018, IFES partnered with disabled people's organizations (DPOs) in every region of the world to develop new tools and approaches to empower people with disabilities to participate in political life.
Celebrating Leadership of Persons with Disabilities
Throughout the month of December, @IFESDisability will be posting photos of disability rights advocates from around the world with statements that celebrate the political leadership of women and men with disabilities. Follow updates using the hashtag #AVoteForEveryVoice and #LeadersEnabled.
Youth with Disabilities Engage in Political Leadership Course in the Dominican Republic
Young women and men with disabilities pose for a group photo during a political leadership course led by IFES in the Dominican Republic in October 2018.
In October, IFES launched a political leadership course, Engaging a New Generation for Accessible Governance and Elections, to empower young women and men with disabilities. The semester-long course builds the leadership skills of youth with disabilities through classroom learning, interactive group work, guest lectures by regional experts, site visits to political institutions, and internships with government stakeholders. The course has been piloted in the Dominican Republic in partnership with Disability Alliance for Our Rights and the National Iberoamerican University of Santo Domingo.
Advocacy and Leadership Trainings Empower Women with Disabilities in Asia
Women with disabilities from different districts across Nepal work together to discuss policy priorities at the Power to Persuade training led by IFES in Nepal in August 2018.
As part of its Power to Persuade training, IFES partnered with the National Disabled Women's Association to train Nepali women with disabilities on how to develop a unified policy platform and practice advocacy skills for communicating with government and politicians. In Myanmar, IFES produced the video below as part of its She Leads women's empowerment program featuring alumnae who have taken on leadership roles to advocate for persons with disabilities.
Increasing Political Access for Kenyan Women with Disabilities
In Kenya, IFES collaborated with Women Challenged to Challenge, an umbrella DPO, to develop a Power to Persuade policy platform document to support women with disabilities' advocacy efforts. This document outlines clear steps for engaging with government officials and local political structures so that Kenyan women with disabilities can advocate for policies important to them.
New Research Examines Political Participation of Women with Disabilities in Armenia
IFES, in partnership with the Armenian DPO Agate Rights Defense Center for Women with Disabilities, published new research on political participation of women with disabilities in Armenia, The Political Participation of Armenian Women with Disabilities: Barriers and Recommendations, which provides insights into the challenges that hinder participation of Armenian women with disabilities and identifies strategies to address them.
New Assessment Framework Promotes an Intersectional Approach to Inclusion
IFES has developed a new tool, the Intersectionality Assessment Framework, to identify intersectional barriers and opportunities related to political participation of people with multiple social identities, such as gender, disability and age. In 2018, the framework was piloted in the Dominican Republic, Tunisia and Lebanon.
New Election Access Observation Tool
In October, IFES launched the Election Access Observation Toolkit, a resource that provides DPOs and election observer groups with the background and tools to effectively incorporate a disability rights perspective into domestic and international observation missions. The toolkit gathers lessons learned from election access observations conducted by IFES and DPOs in a wide range of country contexts.
Coming soon:
Guidelines for Accessible Election Technology Policies and Procedures
Haitian version of Sign Language Electoral Lexicon
Learn more about IFES' disability inclusion programming and visit ElectionAccess.org for the latest on disability rights and inclusive political participation.