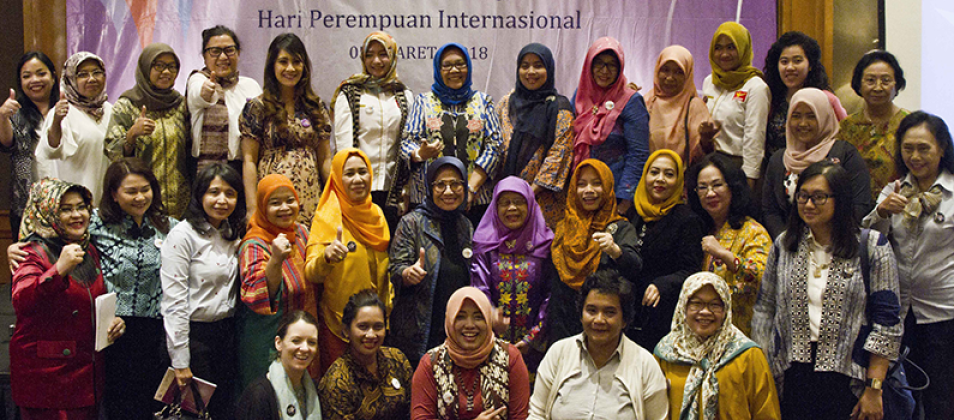 Commemorating International Women's Day in Indonesia
To commemorate International Women's Day in Indonesia, the International Foundation for Electoral Systems (IFES), the International Republican Institute (IRI) and the Association for Elections and Democracy (Perludem) hosted "Women's Challenges in a Political Year" – a public discussion aiming to motivate and unite leaders and communities to think, act and be gender inclusive.
Over the last decade, Indonesia has made important steps to enable equal participation of women in political life, but supporting women to seek leadership positions has proven more challenging. Despite a quota for political parties' candidate lists requiring at least 30 percent women, only four percent of women candidates were elected to Parliament in the 2014 elections.
With the next general election scheduled for April 2019, it is a crucial time for Indonesia to seriously consider the unique challenges and barriers that women currently face in participating in elections. While legal and regulatory reforms are unlikely due to the adoption of the General Elections Law in 2017 and the proximity of the elections, stakeholders can still pursue actions in support of gender parity in the lead-up to Election Day. In recognition of this, the International Women's Day event brought together more than 70 representatives from political parties, election management bodies, government institutions, universities and civil society to discuss challenges to women's equal participation as well as possible avenues for addressing them.
In his opening remarks, Peter MacArthur, ambassador of Canada to Indonesia and Timor-Leste, noted: "Having women and girls as full participants in public life, in the business world and in government leads to better decision-making that improves the quality of life for all citizens." He also emphasized how the political finance framework represents an obstacle to women's participation: "In Indonesia and in many other places, one of the main barriers for women relates to their lack of access to political party and campaign funding; in other words, money politics. By creating a more accountable and transparent playing field, we can help to address this."
[caption caption="Delima Saragih (IRI), Dr. Sri Budi Eko Wardhani (University of Indonesia), Euis Fatayati (PAN), Canadian Ambassador Peter MacArthur, Ratu Isyana Bagoes Oka (PSI), and Admira Salim (IFES) celebrate International Women's Day."]
[/caption]
Dr. Sri Budi Eko Wardhani from the Faculty of Political Science at the University of Indonesia moderated an open discussion with Dr. Ir. Hetifah Sjaifudian, MPP, chairwoman of the Functional Group Party's (Golkar) Women's Department; Ratu Isyana Bagoes Oka, vice chairperson of the Indonesia Solidarity Party (PSI); Euis Fatayati, chairwoman of the National Mandate Party's (PAN) Women's Department; and Ilham Saputra, General Elections Commission (KPU) commissioner.
Discussants agreed that the mindsets of political party leaders and voters toward the inclusion of women as candidates will likely discourage women from contesting in legislative races, and therefore called for more advocacy, activism and support for the political empowerment of women in Indonesia. KPU Commissioner Ilham Saputra highlighted the KPU's commitment to increasing the number of women officials at all levels of the KPU's administration and pointed to similar difficulties in recruiting women to apply for regional-level positions likely fueled by negative societal attitudes toward women in leadership roles.
[caption caption="The event's key speakers engage in an open discussion on the challenges facing women's political participation and leadership in Indonesia."]
[/caption]
The "Women's Challenges in a Political Years" public discussion was organized with support from Global Affairs Canada through the "Advancing the Electoral Process and Democracy" (AEPD) program. Under AEPD, IFES, IRI and Perludem have worked to empower Indonesian women to participate in politics and elections through electoral law reform, leadership training, public awareness and advocacy and the formation of women's political networks.