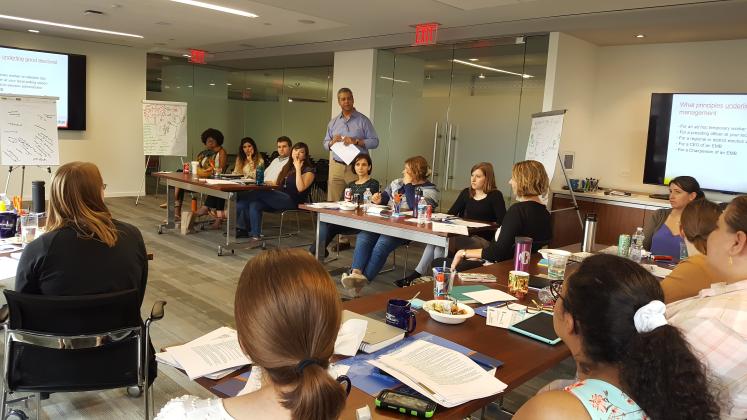 Election Administration and Management BRIDGE Training Builds Internal Capacity
In order to achieve effective and professional election management, election administrators' capacity must be continually prioritized and developed. To meet this need, the International Foundation for Electoral Systems (IFES), along with the Australian Electoral Commission, International IDEA, the United Nations Development Programme (UNDP) and the United Nations Electoral Assistance Division (UNEAD), have partnered together to create Building Resources in Democracy, Governance and Elections (BRIDGE), a modular professional development program with a particular focus on electoral processes.
BRIDGE workshops encourage participants to reflect on how to improve their organization, providing comparative examples and alternative approaches, and generating blueprints for organizational reform. The goals of BRIDGE are to:
Promote internationally accepted principles of democracy and good electoral practice
Enhance the skills and confidence of stakeholders in the electoral process
Increase the awareness of tools and resources available for the building and maintaining of a sustainable electoral culture
Develop a support network for stakeholders in electoral processes and encourage a culture of sharing information and experiences
From August 30-31, 2017, IFES BRIDGE facilitators implemented an "Election Administration and Management" workshop for 20 attendees, including 15 IFES headquarters staff and representatives from Elections Canada, International IDEA, U.S. Agency for International Development (USAID), UNDP, and UNEAD.
IFES offers periodic BRIDGE trainings for staff to provide an opportunity to increase their technical knowledge on topics related to IFES' work, as well as to learn more about how BRIDGE can be used in support of IFES' programs. IFES also invited external participants as a way to broaden the impact of the training, promote connections between and among donors and implementers, and bring a variety of perspectives to the training.
The facilitators incorporated lessons learned from previous in-house BRIDGE trainings, minimizing the number of lectures and emphasizing iterative discussions. Interactive group activities allowed facilitators and participants to approach the material from a practical and hands-on perspective, as well as provided participants a way to and learn from one another through leveraging the varied knowledge and skillsets in the group.
The first day of the workshop focused primarily on the functions, structures, roles, and responsibilities of election management bodies (EMBs). As one of the most common and also most central stakeholders in an electoral process, EMBs often play a critical but not well-understood role in the success or failure of an electoral process. Topics addressed included types and responsibilities of EMBs, the roles of EMBs in election management and stakeholder engagement, civic education opportunities for EMBs, and ended with a group activity requiring participants to design an EMB for a fictional country. The second day of the training drilled down into a more detailed discussion of related election administration and management topics, including the electoral cycle and calendar, risk management and planning, and the importance of international networks of electoral practitioners.
Although participants came from a variety of professional backgrounds and levels of experience ranging from two months to 20 years, the training enabled participants to learn from the material and from each other. More than 70 percent of participants indicated an increase in knowledge, and pre- and post-training test scores showed a marked increase in knowledge among most participants; all but one participant found the training to be either very or somewhat useful for their work needs. As one participant said, "I thought it was a great overview. I didn't expect to do so much creative and interactive work and I loved it."
The workshop was organized and led by IFES' Africa Regional Director Rushdi Nackerdien (South Africa, accrediting facilitator), Middle East and North Africa Deputy Regional Director Ambar Zobairi (USA, fully-accredited facilitator), Regional Operations and Programs Specialist Eric Hodachok (USA, fully-accredited facilitator), and Program Manager Suzanne Abdallah (USA, fully-accredited facilitator).
For more on BRIDGE, see the below video featuring Zobairi and Nackerdien: