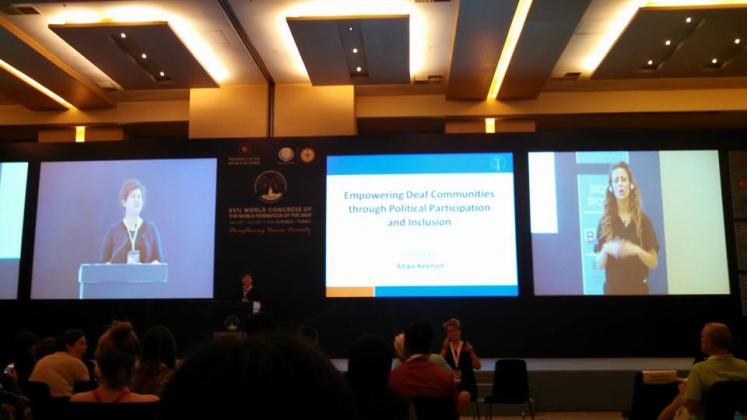 Encouraging Deaf Communities to Participate in Political Processes
It is rare for a person who is deaf to have equal access to conversations, stories and news. For example, in much of the world, a radio is a lifeline to national and local politics: they announce who won an election, air public debates between sparring candidates, or warn of election errors and disasters. However, for a person who is deaf and uses sign language, radios are almost useless. This is one way of many in which deaf communities are constantly disconnected from political dialogues and happenings in their town, district or country.
On July 29, 2015, Anais Keenon, Inclusion Coordinator at the International Foundation for Electoral Systems (IFES), presented to an audience of approximately 60 representatives of deaf communities at the XVII World Congress of the World Federation of the Deaf about the critical need to facilitate and support political participation by deaf communities.
Using examples from IFES' previous work, Keenon described different entry points for deaf communities to become involved throughout the electoral cycle, emphasizing that strong partnerships with election management bodies, journalists, and other electoral stakeholders would be valuable in ensuring deaf voters, candidates, observers and poll workers gain equal access to their political rights. 
As Keenon described the significant challenges that deaf communities encounter, she also described potential solutions. For example, one common challenge is access to civic and voter education. In many countries, using radios, megaphones or televisions are popular methods for sharing information on how and when to vote, or register to vote. Radios and megaphones are ineffective for voters who are deaf, and without interpreters and captions, television announcements are also inaccessible.
To make voter education more accessible in Guinea, IFES was able to collaborate with the deaf community to train facilitators who are deaf to visit local communities and share election information in sign language. IFES also supported the Guinean deaf community as they developed new signs that would facilitate conversation about elections, and co-produced a Guinean sign language lexicon on elections that was published in 2014.
In another challenge, Keenon noted that political debates and other events hosted by political parties are rarely available in sign language. In Georgia and the Dominican Republic, IFES was able to encourage election management bodies to provide sign language interpreters for televised debates for the first time. Though Keenon noted that this was an excellent step forward, she also mentioned that one challenge that IFES encountered was finding enough certified or trained sign language interpreters that were able to take on the task, an issue that the deaf community might consider as they increase their participation in political life.
Several other strategies were shared that deaf communities could adopt to join political processes, such as becoming poll workers or training election staff on how to work with voters who are deaf or hard-of-hearing. Keenon encouraged representatives to consider political participation as one "tool in their toolbox" to have an impact both as citizens of their country and as protectors of their local deaf community.