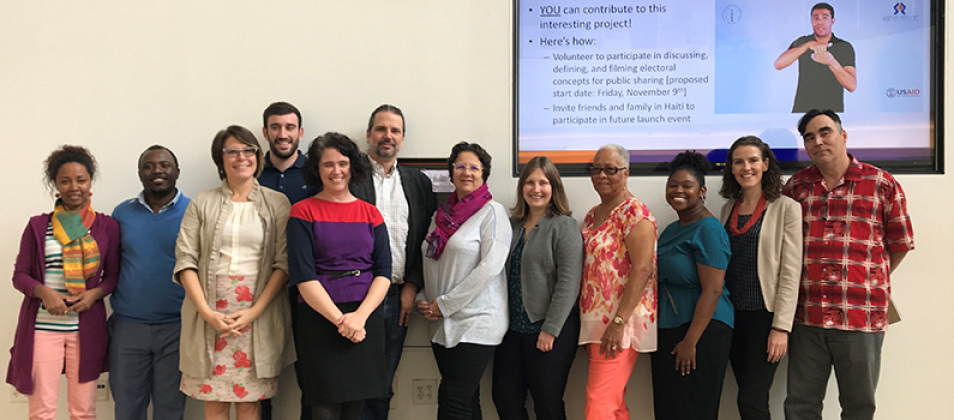 Engaging Deaf Communities Through Electoral Sign Language Lexicons
On November 2, 2018, the International Foundation for Electoral Systems (IFES) co-hosted an event with Gallaudet University's Master's Program in International Development (IDMA) on best practices for making elections around the world inclusive of Deaf communities. Gallaudet University is located in Washington, D.C., and designed to be barrier-free for deaf and hard of hearing students.
As part of its commitment to meaningful participation of persons with disabilities in political and public life, IFES is collaborating with Gallaudet University to develop a Haitian sign language lexicon of key election-related terms for publication on ElectionAccess.org. This initiative aims to leverage IFES' experience developing electoral sign language lexicon projects in other countries. In September, Habtamu Buli, a student in Gallaudet University's IDMA program, joined IFES as an inclusion fellow to contribute to the lexicon development and other disability rights initiatives.
The event was introduced by Audrey Cooper, Gallaudet's IDMA program director, who provided an overview of IFES' collaboration with Gallaudet University. Following an interactive quiz on disability rights and elections, IFES Inclusion Advisor Virginia Atkinson outlined IFES' work and experience developing Libyan and Moroccan sign language lexicons. IFES Country Director for Haiti Sophie Lagueny provided a unique perspective on past and present IFES-led disability rights activities in Haiti. In his closing remarks, Buli described how IFES and Gallaudet have engaged the Deaf community in the development of a Haitian version of signs on electoral concepts. He also outlined the next steps in the lexicon development process and called upon volunteers to participate in discussing, defining, and filming electoral concepts for this pilot project.
IFES looks forward to continuing its collaboration with Gallaudet University and to developing the Haitian electoral sign language lexicon.