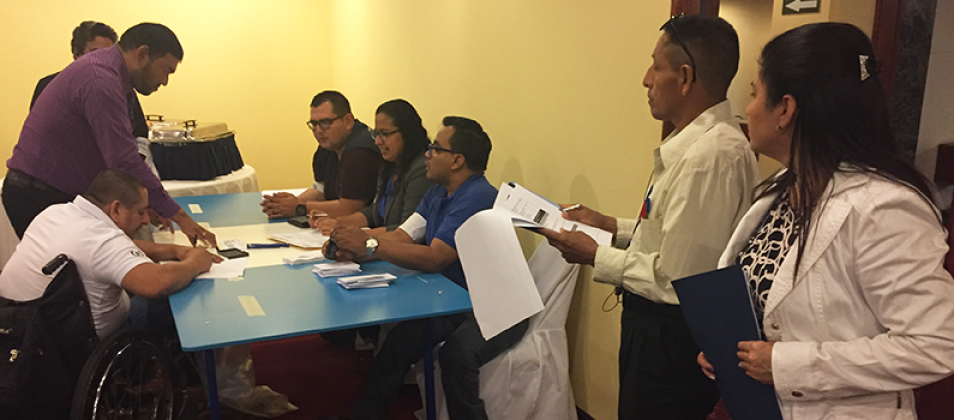 Guatemalan Advocates with Disabilities Trained on Election Access Observation Techniques
by Hilary Collins and Marit Björnlund*
On April 9-12, the International Foundation for Electoral Systems (IFES) trained members of Guatemala's National Council for Persons with Disabilities (CONADI) to carry out an election access observation ahead of the country's general elections on June 16, 2019.
The two two-day trainings, which were co-facilitated by IFES Inclusion Specialist Rebecca Aaberg and Inclusion Program Officer Hilary Collins, included practical guidance on serving as an election observer and analyzing observation data. The trainings also included a simulation where participants practiced using an observation checklist to observe their peers in a mock election. The checklist, which was contextualized through a collaborative process with CONADI, was used during the simulation to gather mock data on access to the voting process and whether poll workers were prepared to support voters with disabilities. Sixty-nine participants, including 39 women, traveled from across Guatemala to attend the trainings.
"Yesterday, I learned about the specific aspects of being an observer with a disability. We learned about the mainstream observers, but also about how we as people with disabilities can be observers. We often focus on just one type of disability, but this training focused on how we can include people with all types of disabilities as observers. We need to collect data so we can advocate for the changes that we need to include people with disabilities in the electoral process." – Woman with a disability who participated in the election access observation training, Guatemala
The trainings used IFES' Election Access Observation Toolkit, which provides a methodology for conducting standalone observations on accessibility and tools for mainstream observer groups to incorporate a disability rights perspective into their missions. The Election Access Observation Toolkit will soon be available in Spanish.
The trainings were part of IFES' "Electoral Governance and Reforms Project" in Guatemala, funded by the United States Agency for International Development through the Consortium for Elections and Political Process Strengthening (CEPPS). IFES' project works together with the Supreme Electoral Tribunal to improve governance of key institutions and increase citizen voice, particularly by collaborating on the implementation of Guatemala's Electoral and Political Parties Law reform passed in 2016. The project's objectives include encouraging effective election monitoring and observation by civil society, including the community of people with disabilities.
"I had never participated in an event like this. For me, this event was very important because it's a new experience and it's a new commitment with and for people with disabilities." – Woman with a disability who participated in the election access observation training, Guatemala
IFES and CONADI's ongoing partnership dates to 2011 and was reaffirmed in a Memorandum of Collaboration signed in early April. To view a photo gallery of the trainings, please click here.
IFES y CONADI llevan a cabo capacitación a Personas con Discapacidad como observadores del proceso electoral. pic.twitter.com/vBvUueQ9EO

— CONADI Guatemala (@conadiguatemala) April 9, 2019
Established in 1995, CEPPS pools the expertise of three premier international organizations dedicated to democratic development: IFES, the International Republican Institute and the National Democratic Institute. CEPPS has a 20-year track record of collaboration and leadership in democracy, human rights and governance support, learning from experience, and adopting new approaches and tools based on the ever-evolving technological landscape.
*Hilary Collins is an inclusion program officer and Marit Björnlund is a program coordinator for the Americas at IFES.