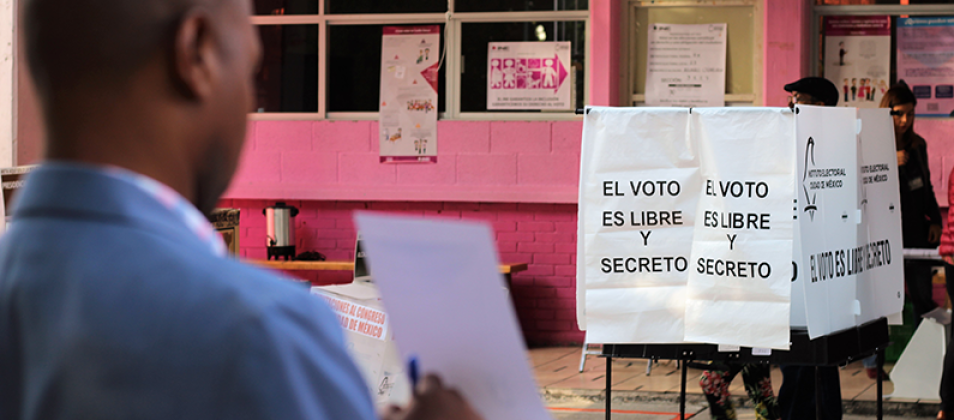 Haitian and Mexican Election Management Bodies Hold Peer-to-Peer Exchange
From June 28-July 1, 2018, a delegation of nine members of the Haitian Provisional Electoral Council (CEP) visited Mexico City to take part in the Foreign Visitors' Information Forum 2017-2018 Electoral Process, organized by two Mexican electoral bodies, the National Electoral Institute (INE) and the Electoral Tribunal of the Federal Judicial Branch. The International Foundation for Electoral Systems (IFES) accompanied the CEP members to observe the Mexican general elections as part of its Elections and Political Processes Support Activity, a United States Agency for International Development-funded project that seeks to reform and institutionalize Haitian electoral processes by improving the professionalism and independence of the CEP.
The trip provided the Haitian delegates with opportunities for peer-to-peer technical exchanges with Mexican and other regional counterparts to learn and share best practices on electoral matters. They also had the opportunity to discuss how to apply certain innovations to the Haitian context, form institutional alliances, and engage in further horizontal cooperation with electoral authorities. The program included three full days with nine informative sessions presented by members of the Mexican electoral institutions and international election experts, a discussion with the presidential candidates' campaign managers, and the observation and monitoring of polling stations on Election Day, including the vote counting process. The CEP delegation also had the chance to meet outgoing Mexican President Enrique Peña Nieto when he cast his ballot.
In addition to participating in these activities, CEP members met with the INE's director of international studies and special projects and Mexican election experts to pose specific questions about the country's electoral system and processes, understand the challenges and the solutions implemented to address them, and discuss the feasibility of replicating some of these mechanisms in Haiti.
IFES will continue to work closely with the CEP to support its efforts to implement electoral reforms and strengthen Haitian democracy.