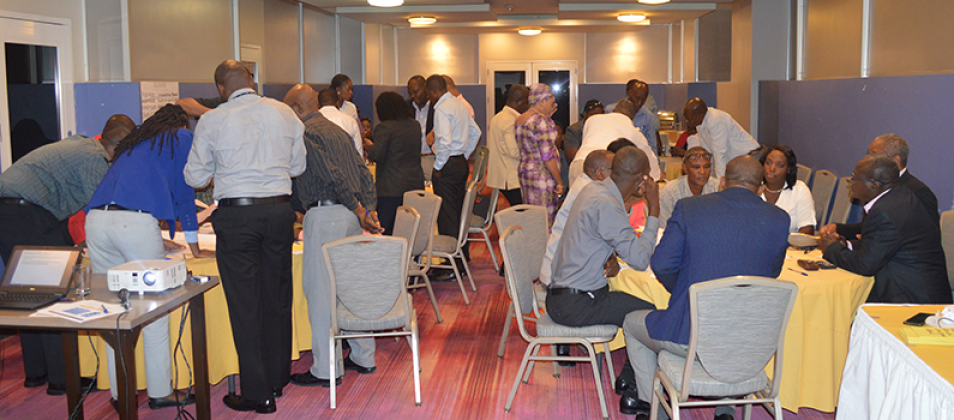 Haitian Election Management Body Trained on Monitoring and Evaluation
by Marita Ivonne Jiménez*
From July 2-20, the International Foundation for Electoral Systems (IFES) partnered with Haiti's Provisional Electoral Council (CEP) to conduct a monitoring and evaluation (M&E) training for directors and managers from all 10 departments and units of the CEP.
The 16-day training aimed to promote and strengthen the CEP's capacity to develop and implement an organizational M&E plan. It consisted of three parts: (1) a full-day introduction to M&E with all the CEP departments; (2) half-day workshops to develop a two-year preliminary results framework for each department; and (3) a one-day workshop to finalize the M&E mechanisms developed for each CEP department. In addition to developing M&E plans, the staff participated in trainings on data collection and management and how to use the newly developed tools.
This training is part of IFES' "Elections and Political Processes" program, funded by the United States Agency for International Development (USAID). One of the program's main purposes is to provide capacity building and technical assistance to the CEP to institutionalize and reform the electoral process. Through this training, IFES provided staff with the knowledge and tools to monitor and evaluate their daily and elections-related activities, developing the CEP's long-term professional and technical capacity to improve internal systems and procedures.
IFES scheduled separate follow-up meetings after the training with all departments to review changes and begin data entry. Throughout September, departments will enter data retroactively into the system and will then begin entering new data on October 1. IFES will continue to provide technical support through monthly meetings to facilitate the successful implementation of the M&E plans. Establishing M&E procedures will bolster the CEP's administrative and operational effectiveness and help provide valid data that the CEP can utilize to identify future targeted training needs.
IFES' work in Haiti is made possible with support from USAID through the Consortium for Elections and Political Process Strengthening (CEPPS). Established in 1995, CEPPS pools the expertise of three premier international organizations dedicated to democratic development: IFES, the International Republican Institute and the National Democratic Institute. CEPPS has a 20-year track record of collaboration and leadership in democracy, human rights and governance support, learning from experience, and adopting new approaches and tools based on the ever-evolving technological landscape.
*Marita Jiménez is a program associate for the Americas at IFES.