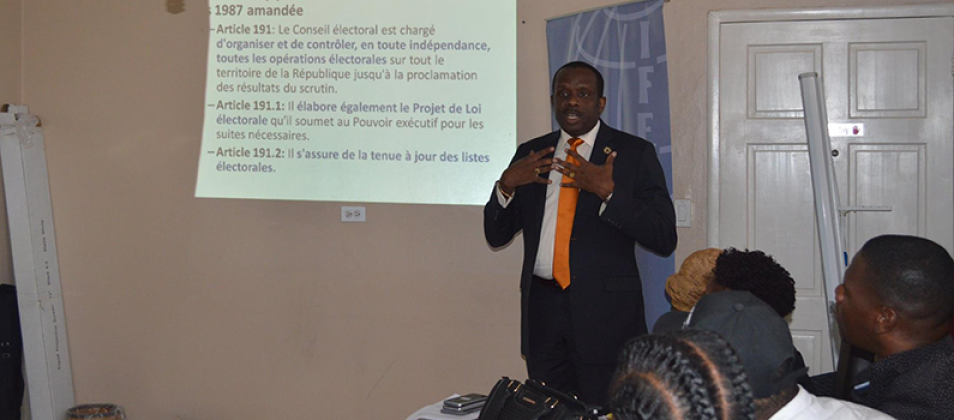 Haitian Journalists Trained on Election Coverage
Twenty-one Haitian journalists from all ten national departments were trained from June 18-19, 2018, on tools and methods of investigative journalism for approaching and reporting election-related matters with professionalism and transparency. The training, titled Investigative Journalism in the Electoral Period, was part of the United States Agency for International Development-funded Elections and Political Processes Support Activity and organized in partnership with the Haitian Provisional Electoral Council (CEP).
Media shapes how voters interpret and observe political information and is critical throughout the entire electoral cycle. In preparation for Haiti's 2019 legislative elections, and given the global spread of misinformation intended to disrupt and influence election results, it is crucial that Haitian journalists be prepared to fight fake news and provide their audience with the facts needed to make informed decisions. The training was thus intended to equip journalists to conduct investigative research, collect and organize credible information, and analyze and interpret data. It also focused on making journalists aware of their role in Haitians' civic and electoral education. Participants came from some of the largest media outlets in Haiti, such as TNH, Radio Ibo, Radio Caraïbes, Le Nouvelliste, Radio Vision 2000, and RCH 2000.
The training facilitator, Professor of Communications Wilson Jabouin, explored several important techniques for gathering and analyzing information, including direct observation, interviews, content analysis, and surveys. CEP General Director Uder Antoine and Electoral Registry Director Philippe Augustin also provided journalists with technical information on the Haitian electoral system and its prospects of modernization. In an interview for the online newspaper Le Nouvelliste, Jabouin underscored the importance of developing a new generation of professional journalists that apply investigative journalism tools and methods in helping citizens make greater sense of their political choices.