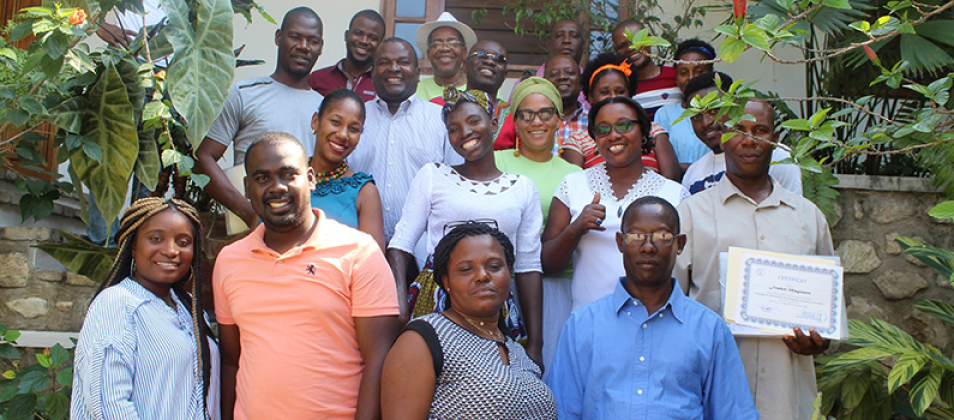 Haitian Journalists Trained on Investigative Journalism and Inclusive Reporting
by Jacob Buchholz*
From March 15-17, the International Foundation for Electoral Systems (IFES) conducted a workshop and training for Haitian journalists on advanced investigative journalism, the inclusion of persons with disabilities, women's representation and violence against women in elections (VAWE). The training was a follow-up to a previous training held in June 2018 with the same group of journalists, which covered investigative journalism during the electoral period.
Twenty-one journalists from all 10 geographical departments in Haiti, including nine women, participated. These journalists represent diverse media sources, including TV stations, radio stations, newspapers and social media. After the success of the first training, IFES agreed to conduct a second training expanding on the investigative tools and techniques discussed during the first training, while additionally incorporating modules on gender and inclusion in political reporting.
On March 15, the training included presentations from a representative of the Office of the Secretary of State for the Integration of Persons with Disabilities on inclusion of persons with disabilities, IFES Country Director for Haiti Sophie Lagueny on women's representation and IFES Gender Advisor Dr. Gabrielle Bardall on VAWE.
The subsequent two days were led by investigative journalism professor Wilson Jabouin, who also led the training last June. Over the course of the two days, the participants learned more about the practices of investigative journalism, their rights and responsibilities as journalists, research and sourcing techniques and content analysis while putting the teachings to practice through exercises with an electoral lens.
IFES' journalist trainings in Haiti are funded by the United States Agency for International Development, as part of the Consortium for Elections and Political Process Strengthening's (CEPPS) "Elections and Political Processes" program. The program's objectives include strengthening civil society advocacy and oversight of government.
Established in 1995, CEPPS pools the expertise of three premier international organizations dedicated to democratic development: IFES, the International Republican Institute and the National Democratic Institute. CEPPS has a 20-year track record of collaboration and leadership in democracy, human rights and governance support, learning from experience, and adopting new approaches and tools based on the ever-evolving technological landscape.
*Jacob Buchholz is a program coordinator for the Americas at IFES.