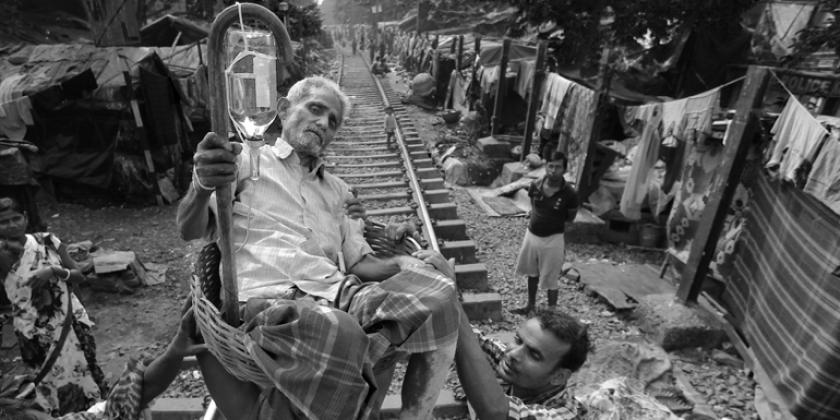 IFES Announces Winners of 2016 Photography Contest
Two compelling photographs depicting insightful moments of Election Day in India and voter registration in Nepal have won the top prizes of the International Foundation for Electoral Systems' (IFES) 2016 Photography Contest. They were part of 10 photographs selected as finalists among the more than 100 images that were submitted to the democracy-themed competition.
"Voter with a disability," entered by Dipayan Bhar, won the IFES Grand Prize. It is an image of an elder person with a disability on his way to vote with the assistance of his son. It was taken in a local election in India in December 2015.
"The IFES Grand Prize is a milestone in the photography career that I started five years ago. My goal is to become a photojournalist and this award helps me to move forward in that direction," said Bhar. "It wasn't an easy picture to take. I had to get into the railroad tracks and momentarily crossed paths with them," added Bhar.
"Citizenship and Voter Registration Mobile Camp," submitted by IFES Nepal Deputy Country Director Nilu Basnyat, won the IFES Choice Award. The image shows citizens in queue to obtain their citizenship cards and enroll in the Election Commission's voter register. It was taken at a mobile voter registration drive in Kailali district, Nepal.
"I am grateful to IFES for tapping into my creativity while also providing me an opportunity to share on a global scale IFES Nepal's field activity on inclusive electoral and political participation," said Basnyat. "I decided to capture the voter registration and citizenship certificate at the mobile camps because they are key for these marginalized communities that have major accessibility issues," added Basnyat.
The entries were judged by Susana Raab, a fine-art and documentary photographer; Jared Soares, a photographer that explores the intersection of community and identity in contemporary American life; Dmitry Shevkun, an avid photographer and IFES Senior Technical Adviser; and Lawrence Green, IFES Multimedia Officer and freelance photographer and videographer. IFES employees were invited to cast their vote for the IFES Choice Award.
"Each year, IFES' Photography Contest pools together the best photos highlighting democracy in action around the world," said IFES' Green. "I congratulate Dipayan Bhar for winning the Grand Prize and Nilu Basnyat for winning the IFES Choice Award. I hope these photos inspire more citizens to participate in the electoral process," Green added.
Bhar will receive a $1,000 (USD) cash prize and the winning photo will be featured as the cover of IFES' 2016 wall calendar. Basnyat will receive a $800 (USD) cash prize and the winning photo will be featured in IFES' 2016 wall calendar.
IFES has sponsored the annual contest since 2009 to highlight the many ways people around the world demonstrate a sense of civic responsibility. The contest seeks photographs of individuals taking part in elections or other activities that embody the values of democratic governance and civic engagement.
View the winner and finalists of IFES' 2016 Photography Contest here.
###
As the global leader in democracy promotion, IFES advances good governance and democratic rights by providing technical assistance to election officials; empowering the underrepresented to participate in the political process; and applying field-based research to improve the electoral cycle. Since 1987, IFES has worked in over 145 countries, from developing democracies, to mature democracies. For more information, visit www.IFES.org.