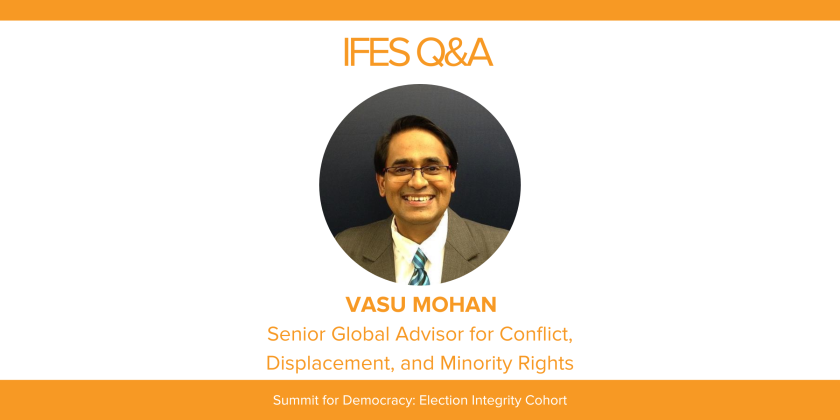 News and Updates
Interview/Speech/Testimony
IFES Q&A: Vasu Mohan
Vasu Mohan is the Senior Global Advisor for Conflict, Displacement, and Minority Rights and the International Foundation for Electoral Systems (IFES) representative for the Summit for Democracy Election Integrity Cohort.
Can you describe IFES's involvement in the Summit for Democracy Election Integrity Cohort?
VM: The Election Integrity Cohort is led by the Election Commission of India and has members from other election authorities. The Election Commission of Mauritius and the election authority of Greece, and IFES are co-leads for this cohort. IFES is the civil society co-lead. 
What value add did IFES bring to this cohort?
VM: As an organization that has worked with well over 100 election authorities over the last 35 years in over 145 countries, IFES brings a unique value to this Cohort in that we have comparative country experiences working on elections alongside election management bodies, and we bring that understanding.
The Election Integrity Cohort had three topical focus areas; one was the capacity and independence of election management bodies. The second one was election technology, and then the third one was inclusion. All three of these are critical to electoral integrity.
IFES was able to bring to these cohort conversations extensive knowledge about election commissions who could bring their good practices to the table. The second unique way IFES was able to contribute was through collecting civil society input. We were able to conduct a survey of civil society organizations in 48 countries, and over 165 civil society organizations participated. The survey was able to bring civil society voices, particularly grassroots voices, into the conversation and consultation of the Cohort.
The third is to work as part of the Cohort to come up with recommendations on each of these topics. We contributed to this effort led by the Election Commission of India and other Cohort members to synthesize recommendations considering international good practices and standards. 
There is interest and commitment to continue the work of this Cohort beyond the life of the Summit for Democracy. We look forward to this Cohort continuing to peer support each other in carrying forward the recommendations in their countries.
How are we leveraging our relationships with election management bodies, governments, and other entities in terms of future election integrity commitments?
VM: As we know, increasingly mis- and disinformation, especially spread via social media, are negatively influencing the electoral environment. The Election Integrity Cohort has proposed to work assisting EMBs/EAs in developing a set of "Voluntary Guidelines for Social Media Companies to Promote Electoral Integrity," in association with interested stakeholders such as election management bodies, social media companies, and other relevant parties. These guidelines, of course, need to be adapted to the specific legal framework and context of each country.
IFES has very strong and trusted relationships with election commissions as well as social media companies and can support this initiative. 
What have you observed in the preparation for the Summit for Democracy that gives you hope?
VM: Over 40 election commissions participated in person and online. All of them strive to uphold electoral integrity around the world. That these institutions are trying, and they were willing to work with each other and support each other, and over 160 civil society organizations responded, wanting to make electoral integrity; that gives me hope. And in country after country where we work—even in places like Ukraine—in the middle of a war, election commissions are still pursuing electoral integrity; that gives me hope. There's a lot that can give you hope. 
I would say the best part of working on this cohort was witnessing these Cohort members trying to promote electoral integrity in their countries, despite how hard it is. They're coming together, and they talk, share good ideas, encourage each other, and want to do the right thing. That is what this Cohort was about. And I think it was a real success from that perspective. These election commissions are unsung heroes of democracy.