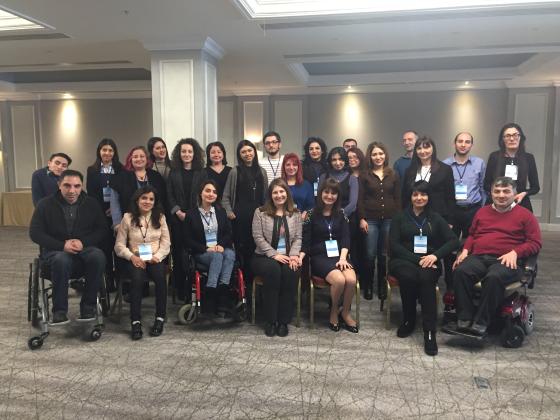 IFES Supports Political Participation of Armenians with Disabilities
The International Foundation for Electoral Systems (IFES) is collaborating with Armenian civil society and government stakeholders to increase access to the political process. This support is provided in the framework of the Global Disability Rights Now! program, a consortium led by Mobility International USA, that also includes IFES, the Disability Rights Education Defense Fund and the U.S. International Council on Disability. The program, funded by the U.S. Department of State's Bureau of Democracy, Human Rights and Labor, is supporting implementation and enforcement of disability rights legislation in six countries around the world: Armenia, Guatemala, Kenya, Mexico, Peru and Vietnam.
Armenians went to the polls on April 2, 2017. IFES undertook several initiatives in order to promote inclusion with both political parties and the Central Election Commission in partnership with the Armenian disabled persons' organization (DPO) Agate NGO. In February 2017, IFES Senior Access and Inclusion Specialist Virginia Atkinson facilitated a workshop where DPOs, civil society groups and lawyers, collaborated in drafting a policy platform. The platform contains issues of importance to the disability rights community, such as inclusive education and accessible transportation. Agreed upon by nearly 60 DPOs and civil society organizations from across the country, the platform was presented to candidates in two forums in March – one in the capital Yerevan, and one in Gyumri. Eight out of nine political parties signed the disability policy platform, thereby committing to implement a range of inclusive reforms if elected at the April polls. This is the first time the Armenian disability community has engaged with political parties and candidates in this way.
Additionally, IFES collaborated with Agate NGO to draft a section on administering the vote to people with disabilities for inclusion in poll worker trainings led by the Central Election Commission across the country. The materials included guidance on how to set up the polling station in an accessible manner, as well as etiquette tips for engaging with voters with different types of disabilities.
The RightsNow technical assistance provided by IFES in Armenia has led to greater engagement between government, civil society and DPO representatives as well as increased responsiveness on behalf of government officials toward integrating disability into their work.