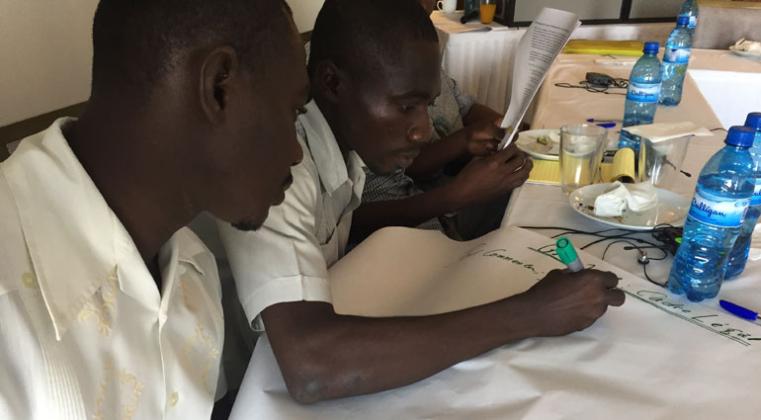 IFES Trains Haitian Disability Rights Advocates on New Advocacy Skills
On December 16, 2016, the International Foundation for Electoral Systems (IFES) conducted a training for persons with disabilities in Port-au-Prince, Haiti, on advocacy for communicating with government stakeholders. The training focused on the adoption and implementation of a strategy for disability-inclusive elections developed by Haiti's Secrétaire d'Etat à l'Intégration des personnes handicapées in collaboration with disabled persons' organizations (DPOs). The event was supported by the United States Agency for International Development.
The training, which empowered over a dozen advocates from DPOs to communicate with decision-makers and other stakeholders, was led by IFES Inclusion Officer Rebecca Aaberg with support from IFES Disability Consultant Joseph Josue and IFES Civic Education Consultant Marjorie Bertrand and opening remarks from IFES Haiti Chief of Party Alessandra Rossi. Participants took part in interactive lessons on electoral access, meeting with government officials, and writing letters to officials. The training concluded with a discussion on creating advocacy plans to ensure effective advocacy campaigns to facilitate more inclusive electoral processes.
Participants noted that this was the first advocacy training of DPOs to highlight methods for communicating with government stakeholders that incorporated practical strategies to be used in their future advocacy on election access.
IFES has worked closely with DPOs to enhance access to elections and recently released a call for proposals from DPOs for in-kind grants to support activities to advocate for a new strategy on inclusive elections.