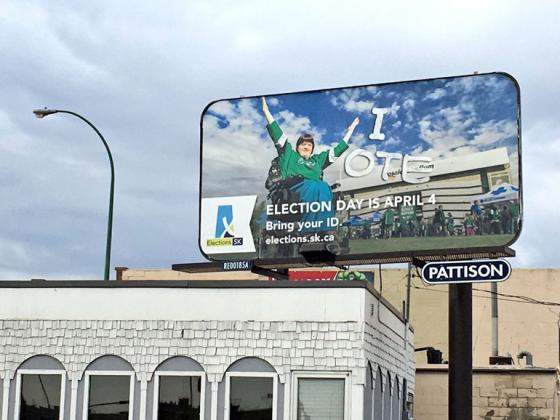 Increasing Election Access for Saskatchewan Citizens with Disabilities
Saskatchewan, a large prairie province in central Canada, is home to more than 180,000 persons with disabilities. Elections Saskatchewan – which is responsible for managing the province's elections – used feedback from disability rights organizations, the International Foundation for Electoral Systems (IFES) and the Johnson-Shoyama Graduate School of Public Policy to improve election accessibility for voters with disabilities in the province's 28th general election, which occurred on April 4, 2016.
In the fall of 2013, Elections Saskatchewan invited IFES and the Johnson-Shoyama Graduate School of Public Policy to host a workshop comprised of Saskatchewan's disability rights organizations. Among other recommendations, workshop participants encouraged Elections Saskatchewan to produce more inclusive and accessible voter education materials, increase disability sensitivity training for poll workers, and provide more flexible options for alternate voting outside of visiting the polling place on Election Day.
In the three years that followed, and especially in the months leading up to the April 2016 election, Elections Saskatchewan implemented several of the recommendations. For example, it produced voter education announcements that included representations of persons with disabilities. With support from the disability rights community in Regina, it produced an accessible training video for poll workers and added a new section on supporting voters with disabilities in both the Advance Poll Worker Manual and the Election Day Poll Worker Manual. New voting options allowed any Saskatchewan citizen to vote during the advance voting period without stating a reason for doing so, and also allowed citizens to vote by mail or to vote from home.
As a follow-up to the earlier workshop and subsequent improvements to electoral accessibility, Elections Saskatchewan invited IFES' Senior Access and Inclusion Specialist Virginia Atkinson and Inclusion Coordinator Anais Keenon to travel to Regina and observe the 28th general election in April 2016. Immediately following the election, IFES representatives and the Director of the Johnson-Shoyama Graduate School of Public Policy, Dr. Jeremy Rayner, then facilitated focus groups with disability rights organizations and seniors groups in Regina on April 5 and in Saskatoon on April 6.
As of this writing, IFES and the Johnson-Shoyama Graduate School of Public Policy are compiling their findings and additional feedback from the focus groups for a final report that will be provided to Elections Saskatchewan in late spring 2016. The report will be used by Elections Saskatchewan to continue its work in refining accessibility for citizens with disabilities before, during and after Election Day.