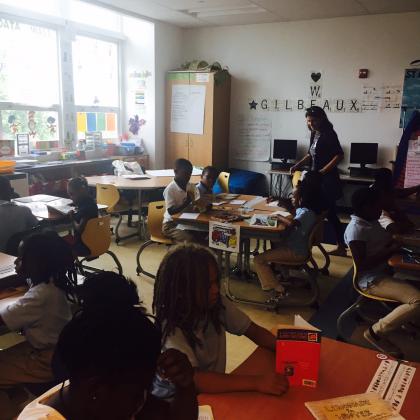 Mandela Day Book Drive Benefiting Turner Elementary
On Wednesday, August 23, 2017, members of the International Foundation for Electoral Systems (IFES) Africa team delivered books collected for its Mandela Day Book Drive to Turner Elementary School in neighboring Congress Heights. The book drive's target was to collect 441 books for the school (one for each student in grades K-5), but ultimately far exceeded its goal by collecting over 600 books. 
Students in Ms. West's third grade class at Turner welcomed the IFES staff with big smiles and lots of excitement as the huge stacks of books were wheeled in. Most of the children also perked up when asked if they knew who Nelson Mandela was, and IFES Africa Regional Director Rushdi Nackerdien shared a bit about the purpose of Mandela Day before passing out grade appropriate books to the students who immediately "oohed" and "aahed," and traded among themselves for favorites. The visit ended with the children passing on some beautifully handmade cards, some of which the kids shared with great enthusiasm and timid voices.  
In July 2009, the United Nations General Assembly unanimously decided that each year July 18 would be celebrated as Nelson Mandela International Day, commemorating the lifetime of service anti-apartheid advocate and former President of South Africa Mandela gave to South Africa and the world. In honor of Mandela's 67 years of public service, the UN-designated holiday encourages people to give 67 minutes of service, with the goal of bringing about enduring, positive change in our local communities through collective action.
 Turner has been a tremendous partner and extremely welcoming to IFES throughout this drive and IFES looks forward to maintaining a continued relationship with the school in the future. Go Rockets! 
 To hear from Nackerdien, a South Africa native, on how Mandela inspired his work, please click here.