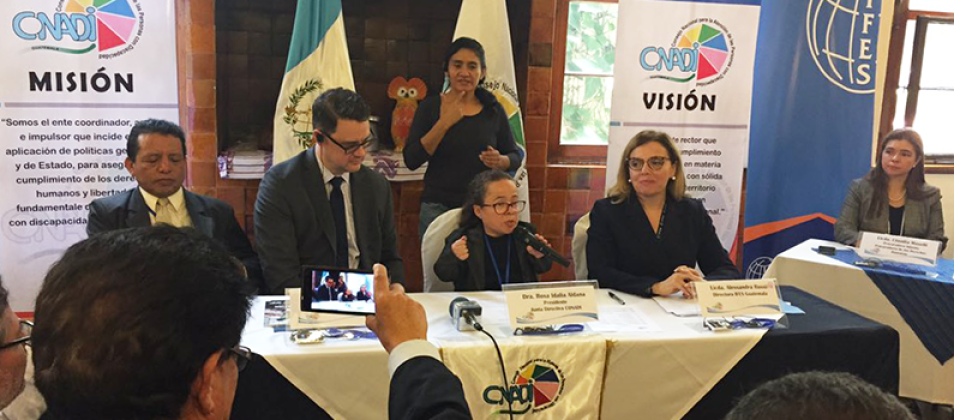 Memorandum of Collaboration to Strengthen Political Rights of Guatemalans with Disabilities
by Marit Björnlund*
On April 8, the International Foundation for Electoral Systems (IFES) and Guatemala's National Council for Persons with Disabilities (CONADI) signed a Memorandum of Collaboration (MoC) to enhance collaboration between the two organizations. The MoC was signed by CONADI President Dr. Rosa Idalia Aldana Salguero, CONADI Vice President Miguel Antonio Martínez, IFES President and CEO Anthony Banbury and IFES Vice President of Programs Michael Svetlik.
As the organizations' leaders explained, CONADI's work in Guatemala advances the rights of people with disabilities, and IFES' work in Guatemala promotes peaceful and fair political processes, including inclusion of people with disabilities. IFES and CONADI have worked together since 2011, and the MoC demonstrates their enthusiasm and renewed commitment to continue working together for a more inclusive democracy in Guatemala.
During the event, Martínez welcomed the crowd, and CONADI Director Sebastián Toledo spoke about efforts in Guatemala to promote the electoral rights of persons with disabilities. IFES Resident Director for Guatemala Alessandra Rossi spoke about the electoral framework in Guatemala and presented the MoC. After signing the document, Svetlik spoke about how the work in Guatemala connects to global work by persons with disabilities to promote their rights and IFES' work to support these efforts in the political and electoral space. Dr. Aldana provided closing remarks.
The ceremony was well-attended, and witnesses of honor included representatives of the Office for Human Rights, Supreme Electoral Tribunal, Office of the United Nations High Commissioner and the Electoral Observatory.
IFES live-tweeted in English and Spanish and recorded the event on Facebook Live. CONADI also live-tweeted and posted a video of the event on its Facebook page. After the event CONADI shared a newsletter and a podcast editorial about the MoC and its significance for the rights of persons with disabilities to participate in political and public life and interviewed Michael Svetlik for their radio program, Guatemala para todos ("Guatemala for all"). The event was also covered in the local press, such as the Diario de Centro América.
Empieza el evento - por favor que iba al página de Facebook de @IFES1987! @IFESAmericas @IFESGuatemala pic.twitter.com/lEfEFyvP9S

— IFES Disability (@IFESDisability) April 8, 2019
IFES Y CONADI firman memorando de colaboración para desarrollar de manera conjunta la promoción de las personas con discapacidad en los procesos políticos y electorales del país. pic.twitter.com/4QQnABwBvG

— CONADI Guatemala (@conadiguatemala) April 8, 2019
Joint IFES-CONADI activities continued the very next day, as IFES conducted two election access observation trainings for CONADI members from April 9-12.
IFES' work in Guatemala is supported by the United States Agency for International Development, as part of the Consortium for Elections and Political Process Strengthening's (CEPPS) "Electoral Governance and Reforms" project. Established in 1995, CEPPS pools the expertise of three premier international organizations dedicated to democratic development: IFES, the International Republican Institute and the National Democratic Institute. CEPPS has a 20-year track record of collaboration and leadership in democracy, human rights and governance support, learning from experience, and adopting new approaches and tools based on the ever-evolving technological landscape.
*Marit Björnlund is a program coordinator for the Americas at IFES.