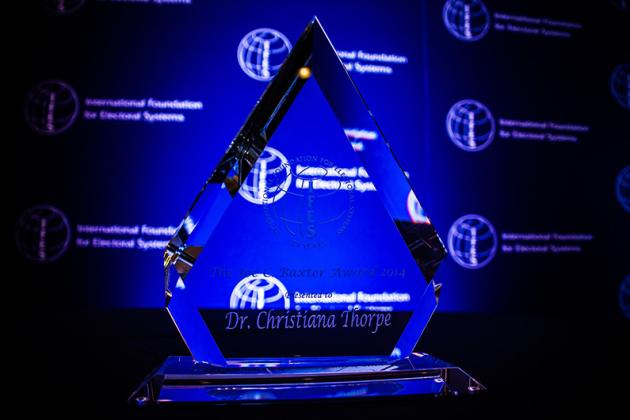 Now Accepting Nominations for the 2016 Baxter Award for Election Practitioners
The International Foundation for Electoral Systems' (IFES) Joe C. Baxter Award recognizes the contribution of a professional whose skills, dedication and sacrifices to the field of election administration epitomize the mission of IFES and embody the spirit of former IFES Senior Adviser for Election Administration Joe C. Baxter. Baxter had a firm commitment to the principles of local ownership, transparency and sustainability of electoral administration.
The Baxter Award honors an election practitioner with a proven track record of exceptional dedication to empowering people to have a say in the way they are governed. IFES presents the Baxter Award annually to one individual at a ceremony typically held in concurrence with IFES' U.S. Election Program or Chief of Party Conference.
The recipient of the Baxter Award must agree to receive the award personally at IFES' ceremony.
Past Recipients
2015 – Michael Maley, Australia
2014 – Dr. Christiana Thorpe, Sierra Leone
2013 – Prof. Jørgen Elklit, Denmark
2012 – Christian Monsod, Philippines
2011 – Dr. Delia Ferreira Rubio, Argentina
2010 – Dr. Kwadwo Afari-Gyan, Ghana
2009 – Dr. Rafael López-Pintor, Spain
Award Criteria
IFES' Board of Directors will select the international recipient of the Joe C. Baxter Award, based on the following criteria:
Impact on the field of election administration. Recipient's personal and professional achievements have had a demonstrable and positive impact on the field of election administration.
Focus on local ownership. Recipient's commitment to the principle of local ownership, for the benefit of citizens in developing countries or under volatile conditions.
Sustained dedication. Recipient's sustained achievements in terms of longevity, legacy and impact.
Progress of election administration. Recipient's positive influence on election administration processes, strengthening of local capacity and development of sustainable approaches.
Alignment with IFES' mission. Recipient worked in a country or countries where IFES has provided technical assistance to local election management bodies.