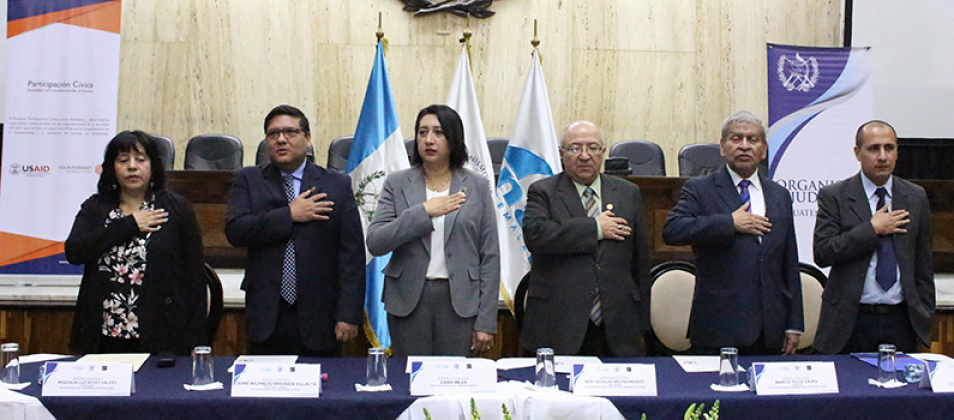 Open Government: A Vehicle for Transparency, Collaboration and Participation in Guatemala
To achieve more collaboration and participation between citizens and the government, Guatemala has committed to promote transparency, empower citizens, fight corruption and use technology to strengthen governance through the Open Government Partnership (OGP). The OGP provides an important opportunity for the Government of Guatemala, citizens, and civil society organizations (CSO) to work in partnership. The implementation of the Open Government Initiative in Guatemala represents a crucial vehicle for transparency, collaboration and participation that will strengthen Guatemala's democracy.
Through the Participación Cívica project, the International Foundation for Electoral Systems (IFES) has provided technical and financial assistance as Guatemala looks to implement the OGP commitments and initiatives. IFES supported the co-creation and implementation of the Open Government National Action Plan (2016-2018), consisting of 22 commitments that cover topics related to access to public information, technological innovation, citizen participation, accountability and fiscal transparency.
[caption align="right"]
[/caption]
As result of this technical assistance, more than 700 CSOs and public officials gained knowledge about OGP principles and values through 14 workshops implemented in partnership with the National Institute of Public Administration (Instituto Nacional de Administración Pública). IFES-supported workshops were even highlighted in the Government of Guatemala's Annual Report.
IFES also carried out two trainings courses related to OGP commitments "access to public information and institutional archives," where 45 people were trained, and "open government," where 33 people were trained.
From March to June 2018, Guatemala will implement the Open Government National Action Plan IV. With IFES' technical support, two workshops aimed at civil society and government, were conducted to identify and create draft commitments that will be shared for discussion. Coming at the beginning of the process, these workshops provide a starting point and represent an opportunity for IFES and its Guatemalan partners to enhance the implementation of the Action Plan.
Ultimately, an open government leads to transparency, and citizen collaboration and participation, and representation in political processes. More countries are interested in being part of the OGP at a global level, as it ensures concrete commitments by governments to promote transparency, train citizens, fight against corruption and take advantage of technologies to strengthen governance. In Guatemala, more actors are joining the initiative and building the country's democracy.
Photos credit: Counterpart International