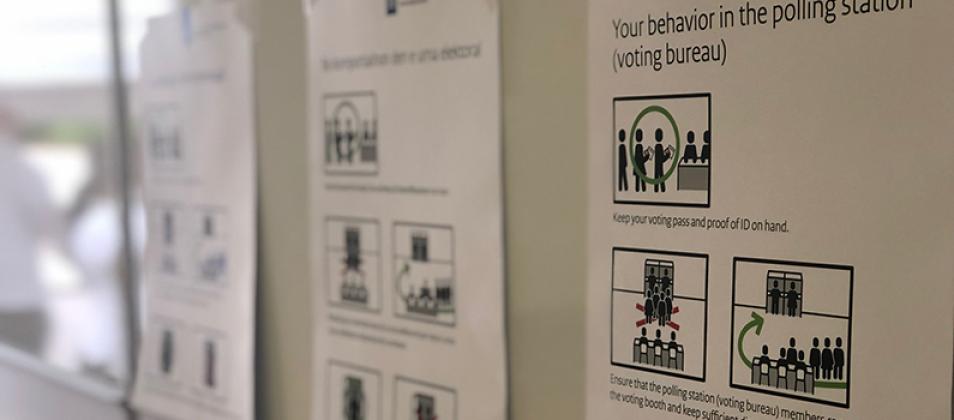 Photo Gallery: Elections in the Special Municipality of Saba in the Caribbean Netherlands
On March 20, Saba, a special municipality in the Caribbean Netherlands, held elections for Island Council and the Netherlands Senate Electoral College. More than 90 percent of eligible voters turned out to cast their ballots.
The 1,900 residents of Saba inhabit a quiet jewel in the Caribbean. Most of the visitors who find their way to the island each year do so via ferry or a raucous but spectacular – and brief –  flight aboard a de Havilland Twin Otter propeller plane. Saba is known for its pristine reefs and winding mountain road; the cloud-wreathed peak of Mount Scenery (the highest point in the Netherlands) looms over the island's terraced landscape and neat villages, two of which housed the island's polling stations on Election Day.
IFES Director of Research and Technical Leadership Erica Shein and Senior Legal Advisor Katherine Ellena traveled to Saba aboard the aforementioned Twin Otter to conduct a targeted electoral observation and technical assessment on behalf of the Ministry of the Interior and Kingdom Relations of the Netherlands. During the assessment trip, the team observed how the Dutch electoral legal framework has been applied in practice on the small island, which has been a municipality within the Netherlands since 2010. The team discussed the electoral process with candidates, voters, government officials, the public entity legal advisor, and security personnel. This photo gallery offers a small glimpse into Election Day in Saba.
A photo gallery of their experiences can be found here or by clicking on the image below.
A supporter of a candidate for Saba Island Council elections stands with a banner outside of one of the island's two polling stations in Windwardside.