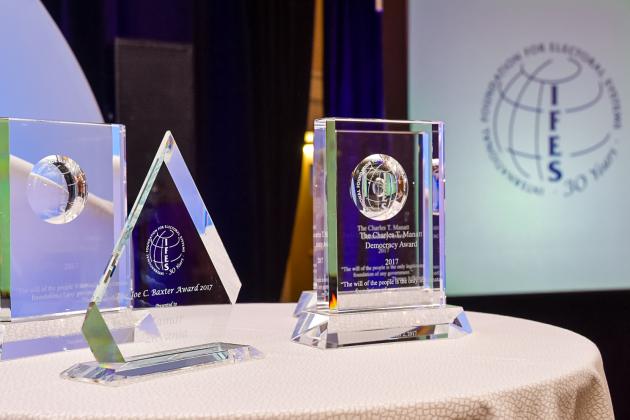 Photo Gallery: IFES' 2017 Charles T. Manatt Democracy and Joe C. Baxter Awards Highlights
On October 2, the International Foundation for Electoral Systems (IFES) held its Eighth Annual Charles T. Manatt Democracy Awards and 2017 Joe C. Baxter Award ceremony in Washington D.C. This event brings diverse groups of domestic and international leaders together who share a belief in advancing good governance and democratic rights by empowering and encouraging active citizen participation.
IFES presents the Democracy Awards annually to three individuals who embody the character and spirit of former U.S. Ambassador and IFES Board of Directors Chairman Charles T. Manatt. This year's honorees were His Excellency Luis Almagro, secretary general of the Organization of American States, former IFES Board of Directors Vice Chair Judy Black (R), and Congressman David Price (D-N.C.). The Joe C. Baxter Award honors an individual with a proven track record of exceptional dedication to election administration and promotes the principles of local ownership, transparency and sustainability in electoral management. This year's Baxter Award recipient was Tamar Zhvania, chairwoman of the Central Election Commission of Georgia.
Charlie Cook, editor and publisher of The Cook Political Report, emceed the awards ceremony, which was co-chaired by IFES Board Director and Connecticut State Treasurer Denise Nappier and IFES Board Director and Foley & Lardner LLP partner Cleta Mitchell.
Click here to view the gallery.