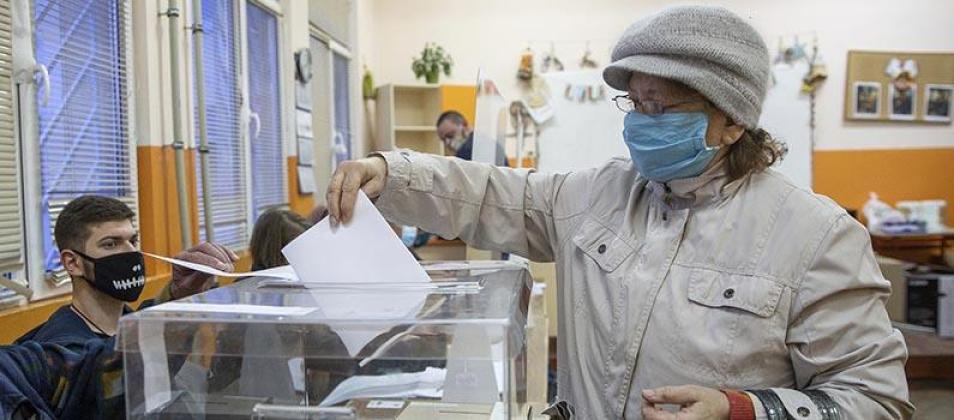 Regional Europe Office Effectively Engaging Stakeholders Online Despite "Zoom Fatigue"
Much like other organizations and communities around the world, the International Foundation for Electoral Systems (IFES) and its beneficiaries have been deeply impacted by the novel coronavirus pandemic.
With most in-person events and activities canceled or postponed due to restrictions on travel and large gatherings of people, IFES swiftly embraced this challenge and opportunity within its "Regional Elections Administration and Political Processes Strengthening" (REAPPS) program. In response to the new environment, IFES' Regional Europe Office adapted in-person events to online webinars and meetings to continue programming and ensure continued engagement of key electoral stakeholders across Europe and Eurasia. At the onset of the pandemic, REAPPS rapidly transformed a planned workshop on the Slovak elections and the online election campaign into a webinar that brought together an array of electoral stakeholders, both within Slovakia and abroad, emphasizing REAPPS' goal of cross-regional experience sharing. This was followed by the virtual launch of the REAPPS Election Management Body Working Group on Social Media, Disinformation and Electoral Integrity – an event that was also originally intended to take place in person in Prague.
Building on the success of these two events, the Regional Europe Office developed and launched a dedicated REAPPS webinar series for international election practitioners, observers and donors. To date, Administering Elections in Europe During a Pandemic has held five webinars, focusing on salient issues such as election administration during a pandemic; preserving electoral integrity during an infodemic; promoting digital civic engagement by youth; promoting access and inclusion of persons with disabilities; and safeguarding electoral integrity through better cybersecurity.
The webinar series has received broad interest and high-level participation from more than 35 countries, due in part to its revolving relevant topics and expert panelists who address key issues developing across electoral environments during the pandemic. This feature is complemented by the webinar's greater engagement of non-English speakers, as each webinar is simultaneously translated into five languages. The webinar series has delivered an array of international good practices and recommendations from experts on protecting electoral integrity during the pandemic. These insights have provided integral input to the actions of election management bodies, observers and advocacy groups, especially those conducting elections in the period following participation in each webinar.
"Thank you so much for the webinar ... one of the best (and most interesting) in pandemic times, so far. Well done all!"
– Representative from a European election management body during the fifth installment of the series, "Cybersecurity and Technology: Safeguarding Electoral Integrity Through Better Cybersecurity"
With such extensive participation from program beneficiaries across the region, REAPPS is tracking how the discussion points and lessons learned presented during webinars are informing participants' own work in pursuit of democracy in the face of COVID-19 and associated electoral challenges.
Looking forward, REAPPS will strive to continue finding ways to creatively engage stakeholders despite the growing phenomenon of "Zoom fatigue." These efforts will include further installments of the webinar series with an eye to recent elections and political developments in Belarus, Moldova, Ukraine, Georgia and Bosnia and Herzegovina. The themes for these webinars and other programming initiatives will revolve around persistent and new challenges emerging from the pandemic, as well as new practices to build the capacity of electoral stakeholders and safeguard the electoral integrity of Europe and Eurasia's elections during a crisis.
IFES REAPPS Webinar Series by the Numbers
530 participants
38 countries across four continents
52 percent of participants were women.
62 percent of speakers were women.
48 percent of participants attended more than one installment of the series.
746 views altogether on YouTube channel
Other Successes
Facebook and Slovak election monitoring experts established a working group to counter online disinformation following the first webinar.
The deputy director of Bangladesh Agricultural University published an article on the "Cybersecurity and Technology: Safeguarding Electoral Integrity through Better Cybersecurity" installment.
To watch the recorded sessions, please visit our YouTube channel and dedicated webinar series webpage!
Published on December 16, 2020.