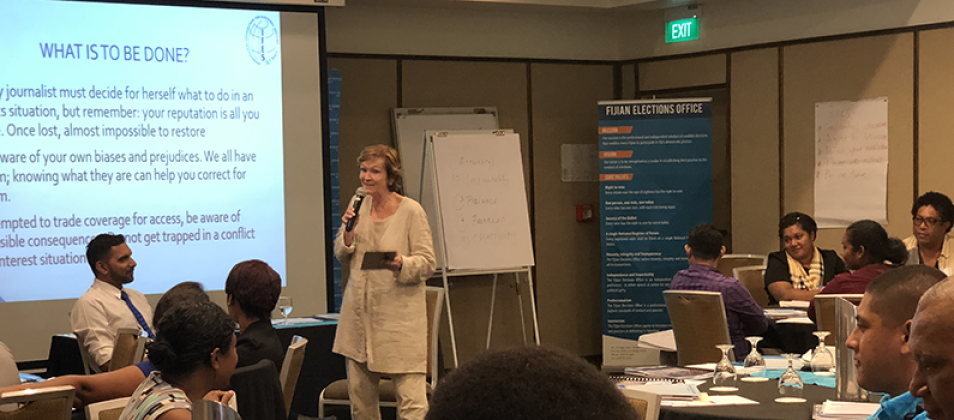 Reporting on Elections Accurately and Impartially: Training for Journalists in Fiji
Fair and balanced media coverage during elections can foster transparency, provide opportunities for information and knowledge sharing, promote an inclusive electoral process, and serve as an effective forum for public debate, all of which strengthens democratic resilience. At the same time, biased media coverage can undermine election integrity. As Fiji prepares to hold its next general elections, strengthening the accuracy of election reporting and promoting informed electoral analyses is a critical priority. The International Foundation for Electoral Systems (IFES) helps journalists around the world strengthen their knowledge of the electoral process to promote effective and accurate reporting of elections. From February 20-22, 2018, at the invitation of the Fijian Election Office and the Media Industry Development Authority, IFES facilitated a workshop for journalists on importance of reporting on elections accurately and impartially throughout the election cycle.
There is a lot more to cover in the election process than the process itself – looking at minority groups and the issues they are raising. We [learned] that we can do this through collaboration/networking with CSOs including DPOs. – Workshop participant
[caption caption="Participants discuss reporting needed during the full election cycle." align="right"]
[/caption]
Forty journalists from over 12 institutions including print, television and radio, attended the training, which focused on presenting international experiences and best practices on topics such as fundamental rights and freedoms, ethics of journalism, reporting through the electoral cycle and how best to be prepared to cover election campaigns and electoral processes. The training included a session on gender-sensitive reporting that looked at barriers to women's participation and explored media's role in countering gender stereotypes and promoting women as political decision makers.
Emphasizing the use of rights-based reporting techniques, journalists also studied integration of disability rights through person-first terminology and inclusive visual media, exploring the use of accessible formats to increase dissemination of information among all citizens. Journalists received practical guidance for making the case to editors that producing stories about disability inclusion is an essential part of covering elections. The training also included an election accessibility simulation that used wheelchairs and blindfolds to enable participants to understand the challenges faced by voters with disabilities on Election Day.
Understanding what hate speech is and looking at different ways to report on that has been very useful. – Workshop participant
The centrepiece of the training was IFES' flagship election crisis simulation, which focused on the role of electoral stakeholders in addressing hate speech. Participants sought to balance the desire to mitigate electoral violence associated with hate speech rhetoric, and the principle of free speech. The simulation required participants to assume the roles of different election actors and identify opportunities to work together to promote positive electoral outcomes. Following the simulation, participants noted their increased awareness about the importance of understanding the legal framework that governs the elections, the importance of covering the full electoral cycle, understanding hate speech and being able to report on it, as well as the role of the media in promoting free and fair elections.
[caption caption="Simulation exercise engages journalists to respond to real life hate speech reporting scenario."]
[/caption]