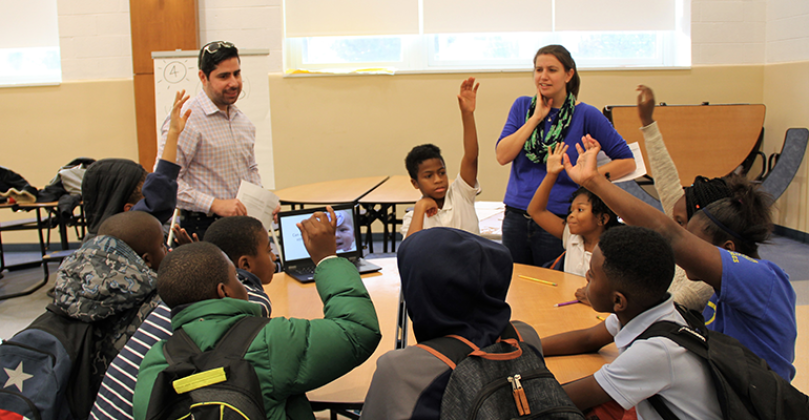 Shaping the Next Generation of D.C. Leaders and Voters
As a global leader in democracy promotion, the International Foundation for Electoral Systems (IFES) recognizes the importance of cultivating the next generation of leaders and voters. In the spirit of cultivating this leadership more locally, IFES staff returned to Turner Elementary School, a public school located in the Congress Heights neighborhood of Washington, D.C., on November 17 and December 8, 2017, to meet with fifth-grade students.
[caption caption="Europe and Eurasia Program Associate Sherri Grierson and Africa Program Coordinator Rene Travis" align="right"]
[/caption]
They were part of a series of seminars on elections, in advance of the school's first student-run election for class offices, which took place on Thursday, December 14. During the first session, students were divided into small groups to discuss democracy, why elections matter, the different qualities and duties of representatives, the roles played by groups like poll workers, observers, and journalists in elections, and voter registration. In the process, students learned about the history and standards of voting locally, nationally, and globally and had the opportunity to register for the upcoming Student Council election. The second session focused on campaigning, poll worker training, voter education, journalists' and election observers' codes of conduct, and their involvement leading up to and on Election Day.
Many thanks to the Turner Elementary staff and the IFES Africa team for organizing the series! Please click here to view a photo gallery and here to read about IFES' Mandela Day Book Drive.
More information about IFES' youth engagement programming can be found here.