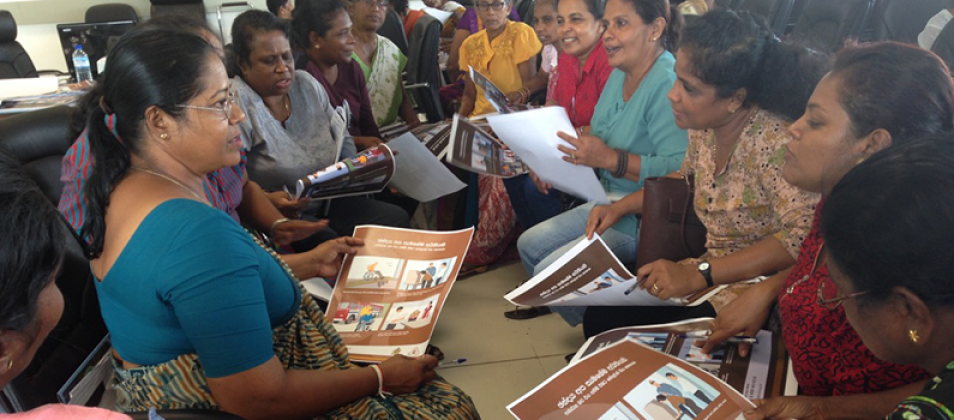 Sri Lankan Women Leaders Deliver Civic and Voter Education Outreach
Sri Lanka's women's federations, which are networks of community-based organizations established by the National Committee on Women (NCW), represent an important group of women leaders who are well-placed to raise awareness about democratic rights and promote women's full political participation. Recognizing this, the International Foundation for Electoral Systems (IFES) has been working with the Election Commission (EC) and NCW to conduct dozens of facilitators' trainings that equip local women leaders with the skills needed to lead their own voter and civic education sessions.
To date, these trainings have engaged 462 women from Sinhalese, Tamil and Muslim communities who, in the months following the training programs, initiated 232 awareness programs reaching approximately 10,000 women. Such outreach solidifies the important role women leaders can play as voter and civic educators in future election cycles.
Sharing Messages About Voting Rights and Women's Electoral Participation
Through the facilitators' trainings, hundreds of women gained the skills and confidence needed to educate their communities on the women's quota, Sri Lanka's voting process, and citizens' rights and responsibilities. These include women like Arunalatha Gamagedara, the treasurer of a women's organization in Anuradhapura, who ran a program for women in her organization that focused on voting procedures, the responsibility to vote and the duties of a local government representative. It also includes women like M.I.S. Ein from the Kegalle women's federation, who – in partnership with Muslim leaders – organized voter education programs in mosques to highlight the importance of women's representation. These examples underscore the impact that trained women leaders have on motivating other women to vote and be politically active.
"The women who were present agreed to approach local government representatives to ask for support for our community projects. I told the members that there are provisions available for us [voters] to approach the EC, too, if our rights are violated." – A newly trained female leader who organized a session to raise awareness about citizens' rights
Educating Marginalized Groups
While democracies are strongest when all groups are able to participate in the electoral process, too often, historically marginalized groups do not receive the information they need to confidently exercise their political rights. The facilitators' trainings recruited women from all ethnic groups, as well as women with disabilities and young women, to participate in these capacity-building exercises. The curriculum also highlighted the importance of electoral inclusion and encouraged newly trained women to reach out to more marginalized groups in their communities. Following the training, women like Deepa Pushpakumari, a member of a women's group in Kurunegala, conducted door-to-door outreach to explain to families the provisions available for voters with disabilities.
Institutionalizing Linkages Between the EC, Women Community Leaders and the NCW
The facilitators' training helped strengthen linkages between the EC, NCW and local women leaders. Through their community-based education outreach, for example, newly trained women are now contributing to the EC's goals of reaching more marginalized voters and equipping them with the knowledge needed to cast their ballots. Additionally, the EC and NCW are now partnering to conduct workshops on women's electoral participation, contributing to their shared objectives of promoting women's political rights.
IFES' work in Sri Lanka is made possible with support from the United States Agency for International Development through the Consortium for Elections and Political Process Strengthening (CEPPS).
Established in 1995, CEPPS pools the expertise of three premier international organizations dedicated to democratic development: IFES, the International Republican Institute and the National Democratic Institute. CEPPS has a 20-year track record of collaboration and leadership in democracy, human rights and governance support, learning from experience, and adopting new approaches and tools based on the ever-evolving technological landscape.
.