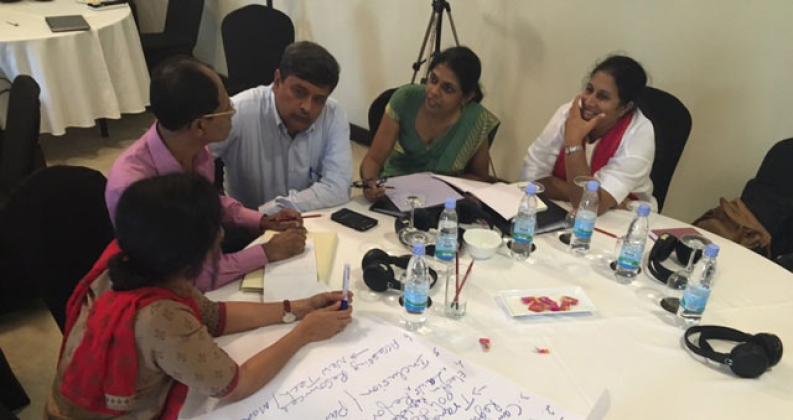 Strategic Planning: Laying the Groundwork for Sri Lanka's 2020 Elections
Under the U.S. Agency for International Development-funded "Improved Election Management Program," the International Foundation for Electoral Systems (IFES) is supporting Sri Lanka's Election Commission (EC) to develop a comprehensive strategic plan that strengthens the EC's ability to operate as an independent manager of the electoral process. IFES support draws on its experience developing strategic plans with election management bodies (EMBs) worldwide – including in Pakistan, Georgia and the Philippines. Strategic planning enables EMBs to determine their long-range strategic direction as an organization, shape and focus their actions to fulfill this direction, and assess and adjust priorities to respond to changing environments.
In May 2016, IFES held a four-day strategic planning workshop with 35 EC members and staff. The workshop – facilitated by IFES Regional Director for Asia-Pacific Vasu, Sri Lanka Country Director Beverly Hagerdon, and Strategic Planning Specialists – included interactive presentations and group work on the principles of strategic and operational planning; setting SMART (specific, measurable, achievable, realistic, time-bound) objectives and targets; establishing monitoring systems; promoting inclusion of women, persons with disabilities and other minority groups in Sri Lanka's electoral process; and incorporating key considerations for integrity management planning.
"This is the first time we are learning about the importance of working in a systematic way to run elections. IFES is helping us to identify the needs and resources of the Election Commission to strengthen our work and organizational structure." - Assistant Commissioner, EC
The workshop laid the groundwork for development of a strategic plan that will guide the EC in addressing a number of priority areas in time for the next round of national elections in 2020. These reforms include establishing dedicated training, legal and inclusion units; expanding training to focus on institutional capacity building; increasing efforts to register internally displaced Sri Lankans; developing a comprehensive voter education strategy; and improving physical accessibility of polling stations and Election Day operations. Many of the activities that the EC identified as priorities were informed by recommendations from the Electoral Integrity Assessment conducted by IFES in October 2015.

EC Assistant Commissioner presents lessons learned from a USAID/IFES sponsored study trip to the Philippines
The success of Sri Lanka's 2015 elections was due in large part to the efficient electoral management of the EC's predecessor, the former Department of Elections. As a result, Sri Lanka's newly-formed EC enjoys high levels of public trust and is well positioned to implement measures that will further strengthen their capacity to hold free and fair elections in the future. The development of a strategic plan is a critical step to institutionalize the EC's best practices in time for the next round of national elections in 2020 and allow it to serve as a model for other election management bodies both in the region and around the world.