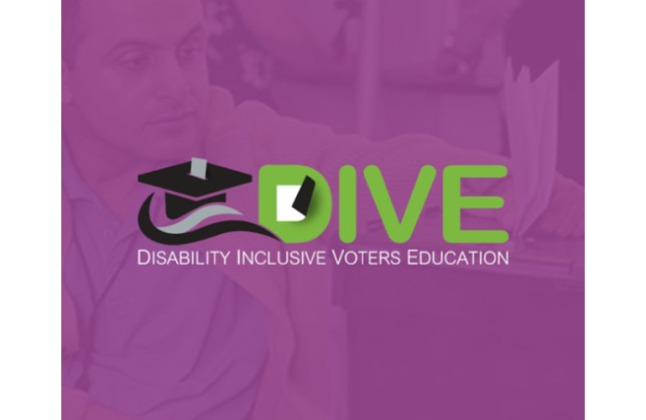 Technology for Inclusion of Persons with Disabilities
In 2015, the Special Talent Exchange Program (STEP), a disability rights organization in Pakistan committed to mainstreaming disability in development using a rights-based approach, developed an Android mobile application to connect persons with disabilities with information on disability rights. The Disability Inclusive Voter Education (DIVE) "app" provides information to enable persons with disabilities to learn about their rights and related opportunities and to become actively engaged in political life.
Through DIVE, persons with disabilities, disabled persons organizations (DPOs), and other stakeholders can learn about how to take part in elections. DIVE also provides information about the services available in districts throughout the country. The app serves to fill the gap in the availability of information on civic and human rights of persons with disabilities. The project, supported by the International Foundation for Electoral Systems (IFES), is a one-stop source for news on elections and voter education information, such as registering as a voter or running for office.
Importantly, the app provides options for greater accessibility for users with disabilities. Users have called DIVE "impressive" and "well done." STEP has circulated a link for the DIVE app through 8,000 SMS messages to persons with disabilities and over 900 persons with disabilities have downloaded the application. The app can be downloaded on Android devices through the Google Play store.
DPOs in Pakistan have lauded the DIVE app as an important tool, providing persons with disabilities with the resources and knowledge to exercise their right to be part of political and electoral processes in Pakistan.
Here is what local Pakistani DPOs have said about the DIVE app:
"It is one of the biggest achievements of the disability movement in Pakistan. Through this application all persons with disabilities and their families can easily be informed about their civic rights." –Society for Special Persons

"Through this application we can have the latest information in real time and persons with disabilities can have better information about their civic rights." –Disability Welfare Association

"It is an informational revolution in the disability movement of Khyber Pakhtunkhwa (KPK) and we should extend the information platforms to the northern parts of KPK." –Special Life Foundation