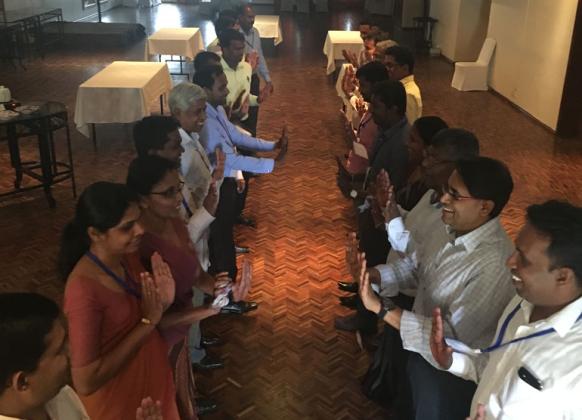 Uniting Gender Equality Advocates in Sri Lanka's Electoral and Constitutional Reform Processes
The International Foundation for Electoral Systems (IFES) works globally to ensure that men and women engage equally as citizens and elected leaders in a country's political process. In Sri Lanka, as part of the U.S. Agency for International Development-funded "Improved Election Management Program," IFES is providing technical support to gender equality advocates to develop and submit recommendations to the current constitutional drafting process on electoral reform and women's political participation.
Despite gender advocates' local-level efforts to submit recommendations for constitutional reform, women have been largely absent from national debates on this issue and lack a united voice to advocate for inclusion of women's political rights in the constitution. To address this gap, in March 2016, IFES worked with the Women & Media Collective (WMC) to bring together more than 40 women's rights advocates from around the country to participate in a workshop on electoral system reform. The High Commission of Canada provided support to WMC directly to cover event costs.
Gender advocates brainstorm ideas for Constitutional reform.
IFES Regional Director for Asia-Pacific Vasu led sessions on electoral system options and interactive exercises to collaboratively identify shared priorities on electoral system reform. IFES also provided technical inputs into the agenda and developed a workshop resource to help participants apply international standards and best practices on women's political participation in Sri Lanka. Recommendations developed by women's rights advocates included a statutory quota for inclusion of women in a closed list for proportional representation candidates; establishment of an independent women's commission equivalent to and patterned after the independent commissions; and adoption of campaign finance regulations that could improve opportunities for women to successfully contest for office.
"It was inspirational to look at how women across the country agreed on prioritizing five topics in relation to reforming the constitution even though their individual and district-based engagement with the constitutional reforms committee depicted their political and ethnic divides." - Shreen Saroor, Women's Action Network
The workshop demonstrated the critical need to educate women about electoral reform to build their capacity to engage as political stakeholders. At the outset of the program, several participants expressed that they did not understand Sri Lanka's electoral reform process or the provisions of the newly-proposed electoral system. However, following sessions on electoral systems, the participants were equipped to express their electoral priorities to visiting Members of Parliament. As one Parliamentarian noted, "On your behalf, I will take these [demands] up with the party." On March 11, 2016, following an inclusive consultative process, gender advocates representing over 30 women's and civil society groups submitted their constitutional demands to Sri Lanka's Public Representations Committee on Constitutional Reforms.