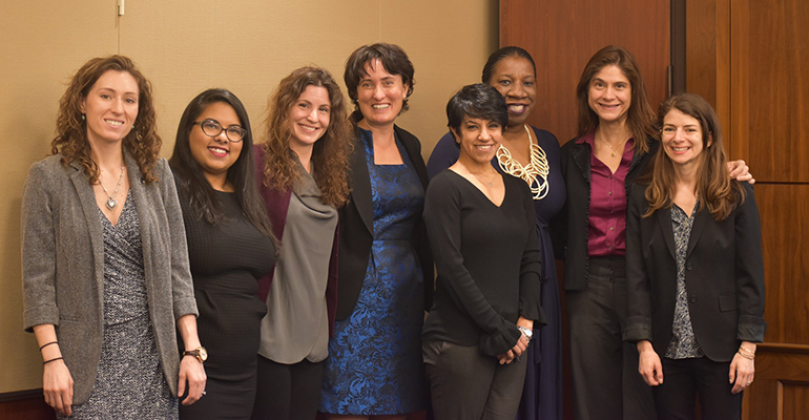 Violence Against Women in the Workplace: A Conversation on Capitol Hill
In the wake of the former Hollywood movie executive Harvey Weinstein scandal, millions of women and men are taking to social media to speak out against sexual harassment and violence. Facebook alone has already seen over 12 million posts from more than 4.7 million users around the world sharing their experiences and reacting, using the phrase "Me too." #MeToo exposed violence against women in the workplace from Hollywood to the halls of state and national legislatures. Sadly, violence and harassment against women is a global issue, affecting women's health, economic wellbeing, ability to participate in political processes and so much more.
On November 15, Congresswoman Sheila Jackson Lee (D-Tex.) and the International Foundation for Electoral Systems (IFES) organized a briefing to discuss violence against women (VAW) in the workplace on Capitol Hill. Taking a cross-cutting perspective on the topic, the event explored diverse workplaces – from wealthy and powerful workplaces in Hollywood and in Congress, to low-income factory and agricultural workers around the United States and the developing world. The event also looked at VAW in the workplace across global regions, ethnic, religious and racial lines. VAW in the workplace is truly a global issue and a common experience and tragedy for women around the world, regardless of income, race, or nationality. Women from racial minorities and from low-income backgrounds face compound challenges in this area. Similarly, violence against women in political workplaces is doubly harmful, hurting its individual victims and driving women out of the spheres of influence where they can work to create change.
The event was hosted by Congresswoman Jackson Lee and moderated by IFES' Senior Gender Specialist Dr. Gabrielle Bardall. Panelists included Leila Milani, senior international policy advocate, Futures Without Violence; Rebecca Gale, award-winning journalist and contributing writer to Slate's Better Life Lab; Judy Gearhart, executive director, International Labor Rights Forum; Cassandra Waters, global worker rights specialist, AFL-CIO; and Tarana Burke, founder and director, Just Be Inc., and creator of the #MeToo movement.
The discussion was part of a breakfast briefing series organized by Congresswomen Jackson Lee and IFES exploring each element of the United Nations Sustainable Development Goal (SDG) #5, "Achieve Gender Equality and Empower All Women and Girls Everywhere." The next briefing will take place on January 17, 2018, discussing "Ending Harmful Practices."