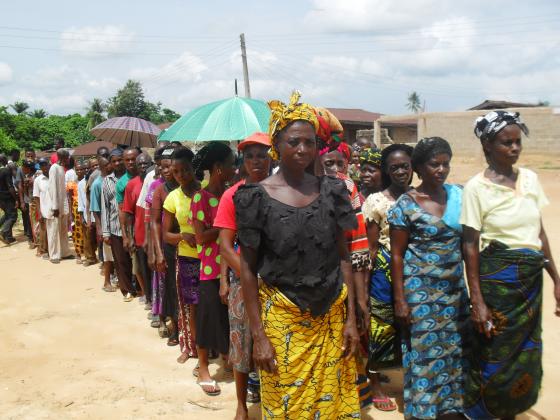 A Vote for Every Voice in 2015: IFES' Year in Review
By Adam Gallagher, Senior Editor and Writer
For nearly three decades, the International Foundation for Electoral Systems (IFES) has been at the forefront of promoting democracy, compelled by a vision of a world in which strong democratic institutions empower citizens to have a voice in the way they are governed. In countries like Nigeria and Myanmar, our programming in 2015 contributed to historic democratic elections. Beyond our global involvement in important democratic and electoral processes, IFES had a very productive year full of change, as we moved to a new office, revamped IFES.org and increased our engagement on Capitol Hill.
IFES was extensively engaged in Nigeria's historic March 2015 elections, which led to the first democratic transfer of power in the country's history. In the months leading up to the 2015 general elections, IFES' programming included training for Independent National Electoral Commission (INEC) staff members and 774 local election officers; the roll-out of a cascaded training of trainers; working with civil society organizations to monitor campaign finance; and conducting a pre-election survey, as well as a July-August post-election survey.
The strong relationship between INEC and IFES was highlighted this year by IFES awarding the commission's former Chairman, Professor Attahiru Jega, with its 2015 Charles T. Manatt Democracy Award. While in Washington, D.C. to receive the award, Professor Jega also participated as a panelist at an IFES event on Capitol Hill, "Assessing Nigeria's Historic 2015 Elections." IFES' role in Nigeria's momentous polls – along with its partners in the Consortium for Elections and Political Processes (CEPPS), the International Republican Institute (IRI) and the National Democratic Institute (NDI) – was also acknowledged by newly elected President Muhammadu Buhari during an event in July at the U.S. Institute of Peace, which was co-organized by IFES. "The contributions of the IRI, NDI and IFES to the success of the 2015 general elections in Nigeria are well documented. I would like to use this opportunity to thank them for their partnership and support to the democratization process in Nigeria," President Buhari said.
Since 1994, IFES has conducted regular public opinion surveys in Ukraine. In 2015, IFES fielded national surveys in both June and September to gauge Ukrainians views on the country's overall direction; confidence in political leaders and institutions; views on democracy and political and economic relations with Europe and Russia; and attitudes on corruption and campaign finance reform, among other things. IFES also played a key role in providing electoral assistance to Ukrainian election officials in 2015. On October 25, an estimated 13.8 million Ukrainians went to the polls to elect over 170,000 local representatives. This marked the first local election in five years, and with it, an opportunity to select new leaders that more closely align with Ukraine's shifting political landscape following the 2014 Maidan revolution and snap presidential and parliamentary elections. Recognizing the importance of the election, IFES worked with the Central Election Commission of Ukraine to support its efforts to effectively administer transparent and credible elections and conduct extensive voter education.
Amid a tense political scene, Guatemalans went to the polls on September 6 for general elections and returned for a run-off presidential election on October 25. IFES has built a strong partnership with Guatemala's Supreme Electoral Tribunal (TSE), and in the lead up to the vote we worked with the TSE to strengthen its capacity to counter political violence and better regulate campaign finance. IFES played an important role in ensuring that the elections were conducted in a peaceful and transparent manner. We provided technical expertise to implement the Inter-Institutional Security Committee, which was led by electoral authorities and other government agencies in an effort to monitor and coordinate a prompt and adequate response to electoral violence. IFES Guatemala also conducted a civic education campaign with messages calling for more inclusive, peaceful, and transparent elections. IFES provided technical experts who worked hand-in-hand with the electoral authorities in the implementation of the election results transmission system to improve the transparency and credibility of the process. We also produced poll worker manuals that explained how the right to vote trumps gender identity and our program promotes the increased participation of cisgender and transgender women, youth, indigenous people, and persons with disabilities.
Myanmar held historic elections on November 8, the first nationwide elections to be held since the government embarked on reforms in 2011. IFES worked with the Union Election Commission (UEC), political parties, civil society, disabled people's organizations, and journalists to support a credible, transparent and inclusive election. With IFES' support over the past three years, the UEC developed the first ever centralized voter list database that contains over 33.7 million voters, as well as a series of manuals and trainings. IFES also fielded a national survey from April through May 2015 to gain greater understanding of opinions and attitudes of citizens of Myanmar toward the election process in the country.
IFES supported 14 civil society organizations (CSOs) to conduct voter education in marginalized communities, as well as a disabled people's organization to advocate for greater inclusion, and hosted regular stakeholder meetings between CSOs and the UEC. IFES collaborated with the Myanmar Independent Living Initiative (MILI) to raise awareness of the political rights of persons with disabilities and encourage their participation in the electoral process. In the lead up to the November vote, MILI developed a how-to-vote guidebook for persons with disabilities; broadcast voter education programs on Myanmar radio and television in sign language; and helped train 220 election officials on accessible polling procedures as part of the UEC's poll-worker cascade training program.uk
IFES also worked with local partner Yaung Chi Thit (YCT) to implement a women's leadership program entitled "She Leads." The program builds on the success of IFES women's leadership programs in Cambodia, Indonesia and Libya and provides women with knowledge of the electoral process, develops leadership skills and emphasizes the important role that women play in the political process. YCT trained women across Myanmar's 14 states and regions, reaching 500 women throughout the country, and six of the program's participants went on to stand as candidates. In July, Angelina Jolie, United Nations High Commissioner for Refugees Goodwill Ambassador, met with young women leaders participating in the program. "The elections in November are an extremely important moment for this country. Today I met inspiring young women preparing to vote for the first time, who have educated themselves about the process and come together to share that knowledge with others at this critical time," Jolie said in a press statement.
After more than 12 years of engagement in Iraq, IFES closed its project in the country in 2015. Within a complex context, IFES has worked in Iraq since 2003, providing capacity building for Iraq's election commission. IFES partnered with the Independent Electoral Commission of Iraq through Iraq's historic 2005 electoral cycle, providing technical assistance on the voter registration process, poll worker training, operational planning, voter outreach, and procurement of supplies for Election Day. We continued this close partnership when the permanent Independent High Electoral Commission (IHEC) was established in 2007. IFES supported the IHEC in the conduct of 2009 governorate-level elections as well as the 2009 presidential and parliamentary elections in the semi-autonomous region of Kurdistan; March 2010 Council of Representative (CoR) elections and the 2010 Baghdad recount; Governorate Council elections in April 2013; and CoR elections in April 2014. While Iraq continues to face massive political and security challenges in the years ahead, a 2014 IFES survey found that Iraqis are largely confident in the ability of the IHEC to organize credible elections, with 79 percent saying they have a great deal or fair amount of confidence. IFES continues to remain engaged with electoral stakeholders so that it can build on its past work and support electoral and political participation in Iraq.
In 2015, IFES also continued its work as a thought leader in electoral integrity. In recent years, election audits have been increasingly utilized to settle disputes over electoral results. As the international community continues to support electoral processes in developing democracies around the world, it is critical to come to consensus on standards that should be applied both to assess the need for an election audit and to conduct such an audit. To that end, on April 22 IFES and Democracy International, two organizations that had extensive involvement in Afghanistan's 2014 run-off audit and several other recent audits in developing democracies, released a joint white paper – entitled Election Audits: International Principles that Protect Election Integrity – that identifies best practices for election audits.
In September, IFES held its sixth annual Charles T. Manatt Democracy Awards, honoring former INEC Chairman Professor Attahiru Jega, House Democratic Leader Nancy Pelosi (D-Calif.) and Congressman Ed Royce (R-Calif.). NBC's Meet the Press host Chuck Todd emceed the awards dinner, which was co-chaired by IFES Board Director and Baker & Hostetler LLP Partner Ambassador Tom McDonald and Manatt, Phelps & Phillips LLP Partner and IFES Board Director June L. DeHart. The Charles T. Manatt Democracy Awards recognize the exceptional work of individuals who demonstrate an unwavering commitment to freedom and democracy. We invite you to view a video and photo gallery of the awards dinner's proceedings.
IFES also increased its engagement with the U.S. Congress, with a host of events on Capitol Hill in 2015. Along with the office of Congresswoman Sheila Jackson Lee (TX-18), IFES co-hosted the "Women, Peace and Security" breakfast series, exploring current issues affecting women and girls in conflict and highlighting their determination and leadership to find peace. In 2015, the series included panels on "Women at the Peace Table," "Increasing Women and Girls' Leadership during Political Transition," and "The Movement of Women and Girls in Conflict," with more to come in 2016. IFES President and CEO Bill Sweeney also made his way to the Hill in 2015, testifying before two House Foreign Affairs Subcommittees. On March 18, President Sweeney provided testimony for the House Foreign Affairs Subcommittee on Africa, Global Health, Global Human Rights, and International Organizations on the implementation of effective electoral assistance in Africa, and provided recommendations for improving future aid. President Sweeney returned to Capitol Hill on July 15 to discuss Tunisia's progress toward democracy since the 2014 elections and provide recommendations on future U.S. support before the House Foreign Affairs Subcommittee on the Middle East and North Africa.
In October, the CEPPS partners were proud to announce that the consortium was awarded the U.S. Agency for International Development's (USAID) global Elections and Political Transitions (EPT) Leader with Associates award. CEPPS has a 20-year track record of collaboration and leadership in democracy, human rights and governance support, learning from experience, and adopting new approaches and tools based on the ever-evolving technological landscape. USAID's EPT program will support elections and political transitions during a period of tremendous social change – exemplified by the challenges of increased connectivity, the youth bulge, urbanization, migration, and globalization.
The past year was also saw major milestones for IFES' growing online presence. Following a significant overhaul over an eight-month period, the new IFES.org was launched in conjunction with the release of IFES' 2014 Annual Report in June. The new website repositioned IFES' core areas of work to highlight what matters most: Electoral Integrity; Participation and Inclusion; Accountability; Women's Empowerment; and Research and Surveys. It also features a variety of resources, such as IFES publications and Election FAQs, multimedia features, and an updated careers portal. One month prior, IFES launched the revamped ElectionAccess.org, the world's first and only free resource solely dedicated to the global political rights of persons with disabilities. It is a one-stop-shop for disability rights advocates and government officials to learn about election laws, best practices in inclusive political participation, and assistive devices. IFES' Innovation Fund – an endowment that supports original projects that address pressing issues in democratic development – supported the renovation of the website.
After six years at 1850 K Street in Washington, D.C., IFES moved its headquarters to a new office in Crystal City (Arlington), Virginia. The new office has a much different look and feel and a much better view, overlooking Reagan National Airport and the Potomac River with the U. S. Capitol and Washington Monument in the distance. With substantially reduced rental costs, IFES will look to invest in its human capital in order to continue to implement our mission to supports citizens' right to participate in free and fair elections.
For more on IFES' work to give a vote to every voice, please visit IFES.org. We would like to thank all of our partners and supporters for their efforts to promote sustainable democracy this year and we look forward to working with you in 2016, as IFES continues to advance its democratic mission to give people a voice in the way they are governed.