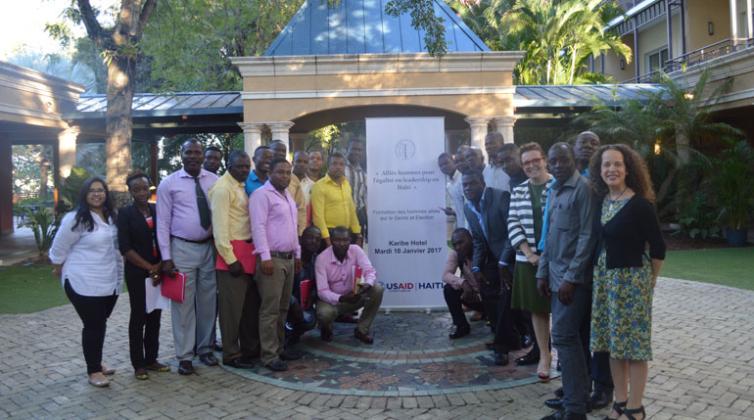 Working with Women Leaders and their Allies for Equality
Women around the world are taking a stand to ensure their voices are heard, their rights are valued, and their leadership is felt. For 30 years the International Foundation for Electoral Systems (IFES) has worked to ensure all voices have access and are empowered to meaningfully take part in their country's political process as candidates, voters, leaders, and activists. From Haiti to Georgia and Nigeria to Sri Lanka, IFES has worked with women, their communities and institutions, including election management bodies, to create sustainable gender equality. IFES has had the privilege to work with fearless women leaders and brave activists who continuously advocate for gender equality and women's empowerment every day. On International Women's Day, and every day, we honor and support the tireless efforts of these advocates.
One of the ways these women leaders affect change is by working with and building partnerships with male allies. Our experience for the last 30 years has shown that interventions that focus on men and women's perspectives can provide opportunities for change from within and can gradually alter traditional attitudes about the role of women and men in public and political life.
As part of this effort and with support from the U.S. Agency for International Development (USAID), IFES has developed the Male Allies for Leadership Equality (MALE) training module, an addendum to IFES' women's leadership training curriculum. MALE is the first of its kind training module focused on harnessing male allies support within the home, community, and institutions for women's leadership in peace and political processes. This module puts into practice a systemic and practical approach to work toward the understanding that gender equality and women's empowerment will only be achieved when women and men work together toward that goal.
The MALE training focuses on two groups of male allies:
At the household level: Supportive household environments are vital for women's participation in leadership development. Engaging family and community members is critical to maximizing women's participation by eliminating basic barriers, such as household responsibilities and restrictions on the freedom of movement. 
At the institutional level: Supportive government officials as well as men who may not have previously considered gender equality in the workplace or those who have obstructed women's leadership in a systematic way are also vital to leadership equality. Engaging men at this level is important to women's leadership because it encourages them to understand and address behaviors of officials and key interlocutors that may knowingly or unknowingly exclude women from key political decision-making roles.
Libya
IFES piloted the MALE training with Libyan male relatives of participants attending the International Republican Institute's training of local female councilors. Over the course of three days in Tunisia, husbands, fathers, sons, and brothers of these leaders had open and frank discussion on gender norms, cultural expectations, personal biases that reinforce inequity and how they felt that their role in Libyan society was changing as their female relatives sought opportunities to lead within their communities. While some participants voiced their reluctance to women's leadership, others discussed the importance of providing support to their female relatives. By the end of the training, they found common ground and were able to speak with each other about the importance of equality within the home, and agreed that it was their responsibility to model this behavior within their communities.
A participant, who attended the training because his wife was one of the first women local councilors elected in their area said, "Libyan society hasn't seen women leaders in public life, but we men need to help change that." One of the participants was a 14-year old boy who had accompanied his mother and was reluctant to speak out and participate at first. However, the other participants mentored him throughout the training on the importance of being supportive to the women in his family. In the end, he became a symbol of this new approach to women's leadership and the participants requested him to present recommendations on progress and support to the women leaders on behalf of these new male allies.
Haiti
In Port-au-Prince, Haiti, IFES conducted a MALE training with 23 department representatives and civil society groups from different parts of the country. IFES took this opportunity to work with male allies at the institutional level to identify how they, as representatives of departments, can work toward addressing gender inequality within their workplace and community. The men identified barriers to women's political leadership in Haiti, which were then compared to specific barriers that Haitian women leaders identified as part of IFES' Violence Against Women in Elections (VAWIE) Assessment.
One participant said, "It is helpful to know that the women we work with have shared that expectations in their households and communities may prevent them from achieving their leadership goals." The men came to a consensus in understanding that their support for women's leadership would ultimately help create change within Haitian society for women's leadership. As a result, participants talked about what it means to be an ally and developed plans to hold community dialogues with colleagues, friends, and family members to discuss the importance of gender equality and ways that they could work toward more inclusive leadership in workplaces and communities.
To learn more about how the MALE module was developed, please see "Crisis in Syria: Now is the Time to Seek Male Allies for Leadership Equality" and "Male Allies for Leadership Equality: Learning from Nigeria's Experience."