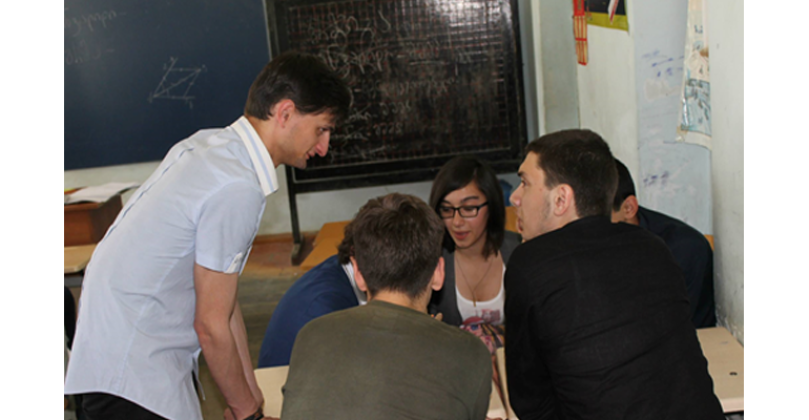 Youth Engagement and Disability Rights
When Ramini Matcharashvili attended the semester-long civics course titled "Democracy and Citizenship" (Demokratia da Mokalakeoba) at Shota Rustaveli Batumi State University, Georgia, in the fall of 2012, he was a first-year law student. Developed by the International Foundation for Electoral Systems (IFES) with funding from the U.S. Agency for International Development and in cooperation with local universities, professors, experts and government officials, "Democracy and Citizenship" is designed to strengthen students' understanding of governance; civic responsibility and civil society; enhance critical thinking skills; and encourage participation in public life. Matcharashvili's participation in the course set him on a path to advocate for the rights and inclusion of persons with disabilities with new skills and opportunities.
Matcharashvili, who has a physical disability, distinguished himself as an active and impressive student throughout the course. He participated in the curriculum's semester-long buildup of civics knowledge and skills development, which culminated in the design and implementation of group student action projects on local community issues.
Following his semester in the course, IFES requested Matcharashvili's participation in a 2013 IFES conference on electoral access for persons with disabilities as a promising young advocate and change agent. During the event, he publicly expressed the desire to start his own NGO to support inclusion and accessibility for persons with disabilities. A fellow panelist at the conference, and a leader of the disability rights umbrella organization Coalition for Independent Living, was so inspired by Matcharashvili that he offered his assistance. With this support, Matcharashvili established his own NGO, Change for Equal Rights, to advocate for persons with disabilities in Batumi. He returned to the next IFES electoral access conference in 2014 as an NGO leader where he talked about his work with persons with disabilities, and youth in particular.
Since the founding of Change for Equal Rights and Matcharashvili's participation in IFES' 2013 and 2014 conferences, he has gone on to participate in a number of initiatives, including a 2014 Open World NGO study tour to the United States and as a panelist at the January 2015 conference on political rights of persons with disabilities in Indonesia put on by IFES' Association of Southeast Asian Nations General Election Network for Disability Access. Reflecting on the personal and professional significance of his participation in the Jakarta conference, Matcharashvili said:
"This trip was very important for my personal development; it was also the first time that I traveled such a long distance alone. I want to thank IFES Georgia representatives and all the people who gave me such a great opportunity, which will be useful and would benefit not only me but my organization as well."
Matcharashvili is the author of several projects aimed at raising public awareness on disability issues, terminology and non-discriminative language. He is a peer educator, who conducts trainings and seminars on disability issues and civic engagement for youth at schools and universities in the Adjara region. Matcharashvili supported pre-election campaigns to engage voters with disabilities to participate in elections at polling stations. Through his organization, Matcharashvili strives to create equal opportunities for persons with disabilities and encourage them to become more active in civil society. Matcharashvili believes that equality can be achieved if people with disabilities are aware of their rights and responsibilities and are willing to speak out about their interests.
In a February 2014 interview Matcharashvili looked back on the IFES-developed course's importance in his own development as a civic actor:
"The most important thing that I learned throughout the course and my activities is that you don't have to be a public official to change something. When working on their action project I think every student realizes this! In different stages of the course you get the skills and knowledge that is helpful not only for civic activities but generally one's life. I suggest and advise everyone to take this course, because it will help them to achieve success in their lives."