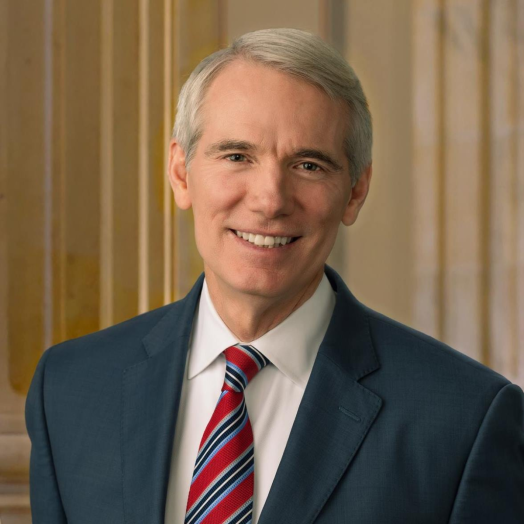 Hon. Rob Portman, Board Member
General Inquiries
media@ifes.org
+1 (202) 350-6700
Rob Portman is a United States senator from the state of Ohio. In 1993, he was elected to Congress, where he represented the diverse, seven county Second District in southern Ohio. He was proud to serve the Second District for 12 years, and in seven elections, he never received less than 70 percent of the vote.
In 2005, Rob left Congress when he was asked to serve as the United States trade representative, the Cabinet-level official responsible for implementing and enforcing U.S. trade policy. As America's trade representative, Rob was successful in reducing barriers to U.S. exports and increasing enforcement of trade laws to help level the playing field for American farmers, workers, and service providers. Under his leadership, American exports increased and the U.S. brought successful legal challenges against international trade law violations.
Following his accomplishments as trade representative, Portman was asked to serve in another Cabinet post, this time as director of the Office of Management and Budget. He made his mark by proposing a balanced budget, fighting irresponsible earmarks, and putting in place new transparency measures for all federal spending.
During his first term in the U.S. Senate, Rob successfully introduced more than 180 bills, including 150 bipartisan bills, and 50 bills that were signed into law by President Obama. He authored the Senate Republican Jobs Plan, a seven-point agenda for creating jobs in Ohio and around the country through commonsense policies like tax reform, regulatory reform, and skills training. He has been a champion for underprivileged children, an advocate for policies that reduce poverty and increase opportunity, and a leader on expanding exports and American energy production.
As a Senator, Rob has also continued to fight to expand exports and crack down on unfair and illegal imports. He co-authored the bipartisan Leveling the Playing Field Act, which was signed into law by President Obama and gives the federal government better tools to fight unfair imports. He also authored the ENFORCE Act, which President Obama signed into law and helps the federal government crack down on countries like China that try to evade our trade laws. Rob also been a staunch advocate for Ohio jobs in dozens of cases at the International Trade Commission.
Portman co-founded and co-chairs the bipartisan Senate Caucus to End Human Trafficking. He is the author of five federal anti-trafficking laws signed by President Obama. He has also led a bipartisan investigation into Backpage.com, which culminated in a bipartisan report which exposed that the company knowingly facilitates criminal sex trafficking of vulnerable women and young girls and has covered up evidence of these crimes in order to increase its own profits.
Rob is also a leader in the U.S. Senate in the effort to preserve our environment. He authored several federal laws to protect Lake Erie from harmful algal blooms through scientific research prioritizing bodies of fresh water, and to stop the use of microbeads, which pollute Lake Erie and harm fish and other wildlife. He is also the author of the National Park Service Centennial Act, which President Obama signed into law in December of 2016.
Senator Portman is a member of the Finance Committee, the Homeland Security and Governmental Affairs Committee, the Energy and Natural Resources Committee, and the Committee on Foreign Relations. He is also Chairman of the Permanent Subcommittee on Investigations.