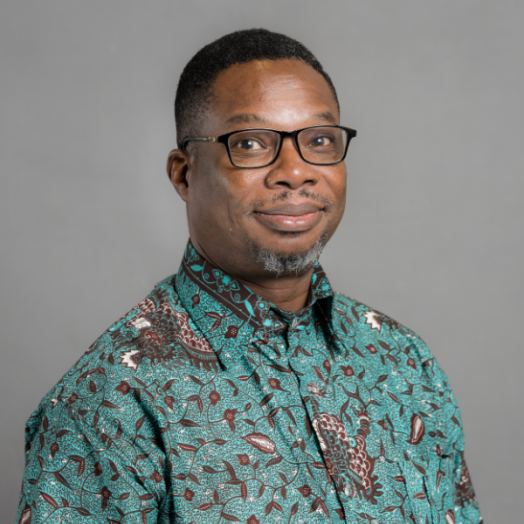 Theophilus Dowetin
Country Director, Democratic Republic of Congo
General Inquiries
media@ifes.org
+1 (202) 350-6700
Theophilus Dowetin, the International Foundation for Electoral Systems (IFES) country director for the Democratic Republic of the Congo, has more than 20 years of elections experience, providing technical assistance and capacity building to election management bodies and stakeholders from 31 countries in sub-Saharan Africa, including Benin, Botswana, Burkina Faso, Burundi, Cote d'Ivoire, Cape Verde, Cameroon, the Democratic Republic of the Congo, Ethiopia, Equatorial Guinea, Gambia, Ghana, Guinea-Bissau, Kenya, Liberia, Mali, Namibia, Niger, Nigeria, Rwanda, Sierra Leone, Senegal, Somalia, South Africa, Tanzania, Togo, Uganda, and Zimbabwe.
Dowetin's prior experience includes work as West Africa manager at the International Institute for Democracy and Electoral Assistance from 2006-13, a program officer at the Association of African Election Authorities based out of the Electoral Commission of Ghana from 2001-06 and a research officer at the National Commission for Civic Education in Ghana from 1994-2006. He has worked as an elections expert in partnership with the African Union, Economic Community of West African States, Electoral Commissions Forum of the Southern African Development Community, East African Community, United Nations Development Programme, United Nations Electoral Assistance Division, Gesellschaft für Internationale Zusammenarbeit, Danish International Development Agency, International Organisation of the Francophonie, Open Society Initiative for West Africa, and many other donors and implementing organizations.
Dowetin's areas of expertise include institutional capacity assessment, strategic planning, capacity building, and curriculum writing on the subjects of elections, political parties, gender, and youth political participation. Dowetin is an expert-level and accrediting facilitator in the Building Resources in Democracy Governance and Elections (BRIDGE) program. Dowetin holds a master's degree in democracy, governance, and law from the University of Cape Coast, Ghana, and is a Ph.D. candidate in international relations at Centre d'Etudes Diplomatiques et Stratégiques in Paris, France.