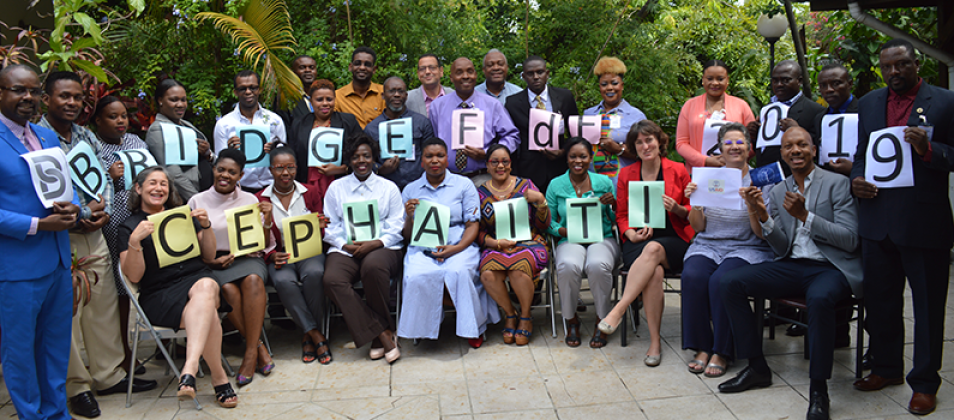 BRIDGE Train-the-Facilitators Workshop Held in Haiti
by Marita Ivonne Jimenez*
From March 18-28, the International Foundation for Electoral Systems (IFES) partnered with Haiti's Provisional Electoral Council (CEP) to conduct a Building Resources in Democracy, Governance and Elections (BRIDGE) train-the-facilitators (TtF) workshop in Port-au-Prince.

The 10-day intensive program was headed by IFES Gender Advisor and BRIDGE Accrediting Facilitator Dr. Gabrielle Bardall and Lead BRIDGE Accrediting Facilitator Alexandra Hovelacque. Bardall and Hovelacque were accompanied by four other facilitators from the United Nations Development Programme in Haiti and the CEP's Procedures and Training Section.
The BRIDGE TtF training aims to give participants the opportunity to learn more about the management and operations of electoral processes and expand their training capabilities. Overall, 18 senior trainers and members of the CEP's Procedures and Training Section were trained, enhancing their skills and confidence in the electoral process and introducing new training and facilitation techniques.
This training is part of IFES' "Elections and Political Processes" program, funded by the United States Agency for International Development (USAID). One of the program's objectives is to help institutionalize and reform the electoral process by providing technical assistance and accompaniment to the CEP to design and reform the electoral system and to adjust the legal and regulatory frameworks. IFES is focused on strengthening the training unit so that it can build the CEP's long-term professional and technical capacity. Through this BRIDGE TtF, IFES is providing training to CEP staff and building a cadre of potential election trainers equipped to inform others and contribute to better electoral processes.
IFES will continue to support the CEP through activities like the BRIDGE TtF training and other capacity building opportunities in preparation for Haiti's legislative and municipal elections scheduled for October 2019.
IFES' work in Haiti is made possible with support from USAID through the Consortium for Elections and Political Process Strengthening (CEPPS). Established in 1995, CEPPS pools the expertise of three premier international organizations dedicated to democratic development: IFES, the International Republican Institute and the National Democratic Institute. CEPPS has a 20-year track record of collaboration and leadership in democracy, human rights and governance support, learning from experience, and adopting new approaches and tools based on the ever-evolving technological landscape.
*Marita Ivonne Jimenez is a program associate for the Americas at IFES.