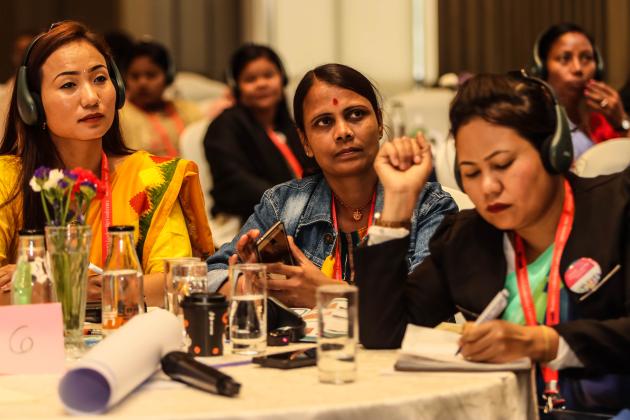 Building Collective Resilience for Women to Stand Against Online Disinformation and Hate Speech
Pull Quote Text
"Wherever we live, we struggle for rights and equality, we need this platform to share and to listen to each other."
Heading
She Leads participant
Over 50 women cheered for Rani Mei Lestari as she sang on stage at a dinner in Kathmandu, Nepal, complete with a guitarist behind her. The crowd didn't know at that moment, but Rani was breaking out of her shell.
For Rani, head of the Association of Indonesian Disabled Women, it takes courage to voice her opinions and feelings in front of a crowd, in large part due to the barriers she faces as a person with disabilities in the political space.
Another alumnus from Myanmar finds courage to plow forward in advocacy every day, following the 2021 coup. "After the military coup, we feel like we are isolated," she said.
Both women attended the She Leads (the International Foundation for Electoral Systems (IFES) women's leadership training program implemented across the Asia-Pacific region) regional conference and soon realized the strength, confidence, and courage they not only could spread—but draw upon—from being around other She Leads alumni from across the Asia-Pacific region.
"Wherever we live, we struggle for rights and equality," the woman said. "We need this platform to share and to listen to each other."
It was the first time She Leads representatives from multiple countries, including Nepal, Indonesia, Pakistan, Myanmar, Papua New Guinea, and Sri Lanka, came together in one forum.
In the years preceding the regional conference, She Leads alumnae faced the global COVID-19 pandemic, political upheavals, economic crises, and other national and community-based challenges. As leaders, they were often on the front lines of response to these crises, building on their national networks to advocate for and implement gender-inclusive responses in their communities.
The conference participants, some of whom hold elected office in their respective countries, run non-profit organizations, or hold other community positions, swapped experiences about running for office or seeking other leadership roles. For many of them, that leadership may be accompanied by hate speech and disinformation in digital spaces that hamper their ability to accomplish their goals and build more gender-equitable societies.
"None of the political parties in Nepal have the policies to address political violence in the political system, which applies to online violence as well," Neelam Sharma, chairperson of the Purple Foundation, said during a panel discussion. "When they do not have any policy to address gender-based violence, then there will be online gender-based violence."
Aileen Sagolo, an IFES senior program officer for Papua New Guinea and Bougainville and She Leads trainer, emphasized the value of bringing such diverse regional groups together and discussing the barriers that women face in achieving political office and leadership positions.
"This conference has added a brick to our learning block," Aileen said.
With what Aileen referred to as her new "network of sisters," conference participants worked together to develop advocacy plans to promote women's participation and leadership in political spheres while combating gender-based hate speech and disinformation online and offline.
Part of those advocacy plans involved social media engagement. Social media influencers led a session about powerful digital storytelling and advocacy tools, specifically how to create impactful videos on TikTok. With TikTok recently emerging as a hugely popular platform in 2019, many of the women have never used it as a tool for voter engagement or political activism.
Durga Maya Nepali received a round of applause after presenting her TikTok, which was a public service announcement to prevent hate speech against women online. "Even when a woman is skilled and knowledgeable, male commentators can still try to undermine her credibility by bringing up irrelevant topics such as her appearance or personal life," Durga said.
Comments of admiration followed other groups' presentations of their TikToks, which are part of the She Leads "Say No to Hate" campaign, launched during the conference and which participants will continue their advocacy under.
While some of the women spoke different languages, which alumni Durga worried about before attending the conference, she said the activities showcased how innovation can transcend language and cultural barriers.
"Despite our differences, we are all working to make a better place for everyone through promoting gender equality," Durga said.
---
She Leads is a flagship program of the International Foundation for Electoral Systems (IFES), to empower women with the skills and knowledge to take on leadership roles in political processes through a series of beginner, intermediate, and advanced trainings. To date, She Leads has trained over 7,500 women in eight countries and continues to expand. Each program is tailored to the cultural and contextual needs of the country, and reflects lessons learned from successful She Leads alumnae. As a result of the program, She Leads alumnae have developed formal and informal personal networks, increased their self-confidence, and taken on leadership roles to advance women's political participation. The She Leads Conference in Kathmandu, Nepal, in March 2023, was the first multi-country convening of She Leads alumnae.
The She Leads Nepal program is implemented with the generous support of Australia's Department of Foreign Affairs and Trade (DFAT) and the Swiss Agency for Development and Cooperation (SDC).
"This conference is really important for the way that it underscores the necessity of women's political participation in each of their countries, at all levels of government and in international processes and spaces," Felicity Volk, Australian ambassador to Nepal, said.
"This program has helped build the confidence of women and works with the community to ensure the success of women's political leadership at the local level," Silvana Hogg, deputy head of mission at the Swiss Embassy of Nepal, said.