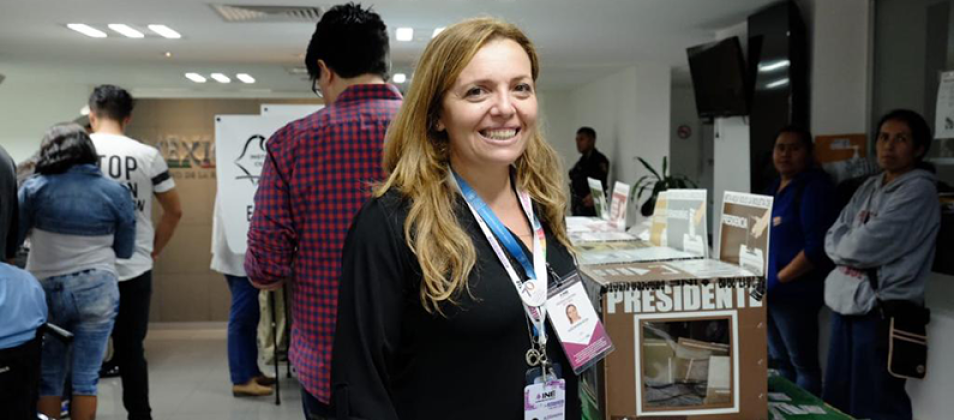 A Conversation with IFES Resident Director for Guatemala Alessandra Rossi
Alessandra Rossi arrived in Guatemala City in January 2019 to serve as the International Foundation for Electoral Systems' (IFES) resident director in Guatemala. She brings more than 15 years of experience in the field of electoral management, operational management, civil society strengthening and overall organizational capacity building. She also possesses extensive knowledge and field expertise in conflict mitigation, peace building and empowerment of women and persons with disabilities. In Guatemala, Rossi provides technical leadership and overall direction to IFES' "Electoral Governance and Reforms Project," funded by the United States Agency for International Development (USAID). The project contributes to credible and sustainable elections in Guatemala and seeks to improve governance of key institutions and increase citizens' voice. Rossi also worked for IFES in Haiti from 2013-18 as chief of party for the USAID-funded "Elections and Political Processes" program.
How does it feel to be back working at IFES? What will make this position different from your previous work?
It's an amazing feeling. IFES is home – being back with IFES means going back home!
This experience has already shown to be challenging, rewarding – a learning opportunity and at the same time an opportunity to apply my knowledge and enthusiasm. Though it's a change from my last job in Mexico with the United Nations Development Programme (UNDP), this mission is in a country from the same region as Mexico, with the same language and some similarities in habits, customs, history and people. After Mexico, Guatemala is the perfect place to land and experience another election, both on a professional and a personal level.
You have worked on election assistance all over the world – most recently, as IFES' chief of party in Haiti and for UNDP in Mexico. Please share some highlights!
Working in Haiti, I experienced (both by witnessing and contributing) many electoral cycles – four in 10 years! I strengthened ties with local communities, electoral authorities, many colleagues, all working together to contribute to improving Haitian democracy. We were trying to make Election Day a participative, inclusive and more peaceful moment for all. I can't forget the IFES get-out-the-vote campaign implemented with grassroots civil society organizations – primarily working on youth, disability and women's issues – in both urban and rural areas, the creation of Haiti's first National Strategy on Gender and Elections, the persons with disabilities inclusion assessment and the LGBTQ program, among others.
Supporting Mexico's biggest elections in 2018 allowed me to work in a country where elections are organized by capable and highly professional electoral management bodies (EMBs). I have always admired the Mexican EMBs, they serve as a point of reference in the electoral world. The project I led for UNDP is a unique exercise in which national electoral authorities and civil society organizations work together to improve the electoral system with a particular focus on transparency, respect for the legal framework, electoral justice and inclusion for all people, particularly less empowered groups such as indigenous people, women, youth, persons with disabilities and out-of-country voters.
What are some of the common challenges you see today for electoral assistance across the Latin America and the Caribbean region?
I believe the following are common challenges: the fight against corruption, promotion of civic engagement, prevention of electoral violence including ending impunity, conflict prevention and dialogue on citizen participation.
What are your expectations and goals for the IFES project in Guatemala over the next year?
IFES has been already running a successful project led by professional and dedicated colleagues who have established and strengthened relations with the Supreme Electoral Tribunal and other local stakeholders. Since my arrival in January, I am doing my best to be an asset for the project, bringing my ideas, vision and experience in accordance with national electoral priorities and IFES' mission.
IFES' work in Guatemala is made possible with support from USAID through the Consortium for Elections and Political Process Strengthening (CEPPS). Established in 1995, CEPPS pools the expertise of three premier international organizations dedicated to democratic development: IFES, the International Republican Institute and the National Democratic Institute. CEPPS has a 20-year track record of collaboration and leadership in democracy, human rights and governance support, learning from experience, and adopting new approaches and tools based on the ever-evolving technological landscape.