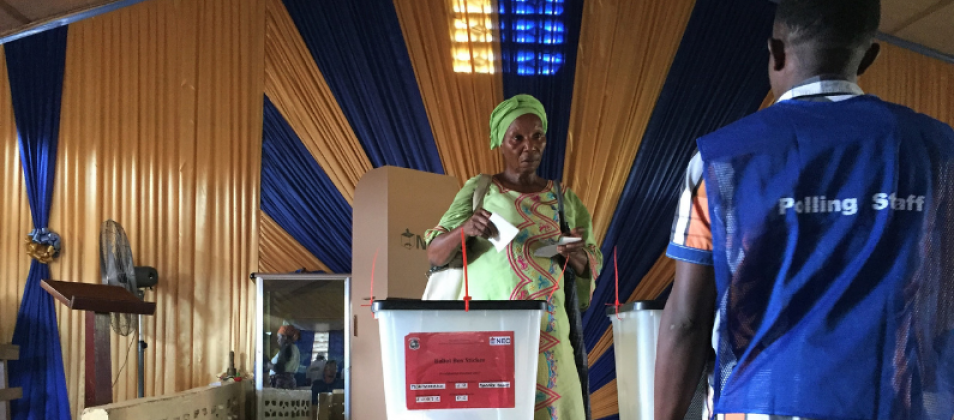 Is Democracy Assistance Sustainable? What 25 Years of Programs Has Taught Us
Donors and implementers of international development programs increasingly emphasize the goal of self-reliance: working with local partners in a way that builds capacity and ensures sustained results toward a country's development agenda and eventually eliminates the need for foreign assistance. Assessing sustainably of the outcomes of assistance programs is not, however, an easy task. During project implementation, we are often limited to capturing immediate and short-term results. Impact evaluations that can rigorously capture long-term outcomes are rare as they are time consuming, costly and difficult to execute. Recently, however, the International Foundation for Electoral Systems (IFES) had a unique opportunity to revisit 25 years of democracy assistance programs in post-conflict countries and talk to 88 local partners who directly participated in these projects, in addition to 28 program implementers. We asked partners which results faded and which ones were felt to this day, in addition to what factors they attributed the longevity of results. The insights obtained from these conversations helped us better understand what is needed to meaningfully contribute to self-reliance.
Most of the former partners interviewed during this exercise were members of electoral commissions, civil society organizations or political parties who participated in different ways in programs implemented by the Consortium for Elections and Political Process Strengthening (CEPPS). Despite their various levels of engagement with projects, these partners often pointed to similar contextual challenges affecting the success of activities, such as persistent insecurity in their country deterring people from participating or insufficient local resources to allow them to carry on with activities after project end. Because of these context-specific issues, one of the most obvious challenges we faced while conducting this exercise was to try to judge the effectiveness or sustainability of interventions by the merit of their design alone.
As we were ready to accept the certainty of unpredictability in this field, one variable mentioned repeatedly by partners and implementers alike shed light on what was behind more sustainable interventions: time. In some cases, the time factor related to the duration of projects – partners believed projects were not long enough to allow for the stated goals to be accomplished. This should not be very surprising, as we know that some of the most sustainable democratic advances involve changes in social norms and attitudes, both of which take time. We are also quite familiar, however, with one of the biggest dilemmas in development assistance: exceedingly long programs can lead to dependence and undermine the overarching goal of self-reliance. So how could the time variable be calibrated to both increase sustainability and reduce aid dependence?
Part of the answer is the timing and duration of projects. Understandably, donors tend to invest in democracy assistance close to major events like elections, when attention turns to the country and the needs of local stakeholders are particularly salient. The problem with that approach is that by the time technical assistance is employed, operational decisions are often already made by election commissions, legal frameworks cannot (or should not) be changed and civil society organizations are too stretched to engage in capacity-strengthening efforts. The external support in these cases, while still helpful, tends to focus on temporarily filling technical and budgetary gaps rather than equipping local partners to improve processes in the long run.
Understanding this fundamental problem helped us make sense of what worked. In the interviews we conducted, partners praised projects that allowed time for better planning and decision-making, comprehensive mentorship, and transfer of skills from external experts to local staff. With sufficient time and a better understanding of their gaps, local organizations were also more likely to acquire or develop the needed expertise locally rather than resort to external stopgaps.
More time ahead of electoral processes is only one piece of the puzzle, though. In the opinion of many partners, projects ended too soon. Without the extra support, election commissions often did not have the capacity to follow up on technical recommendations, advocates could not continue pushing for legal changes and civil society organizations did not have the financial means to keep fostering voter education and engagement. While some extra time might help mitigate some of these issues, even more important is using this time to consciously plan and prepare partners for the end of the project. Well-prepared institutions were those that had incorporated new staff or equipment maintenance into their own budgets, who had learned how to raise sufficient funds for operations and who had institutionalized technical expertise and created internal mechanisms for dissemination of information. Partners recognized that, when democracy assistance providers provided practical tools and materials to support these efforts, they contributed the most to the autonomy of local institutions. For instance, financial monitoring systems, electoral dispute resolution databases and organizational budget planning tools first introduced over 10 years ago were often still in use.
Now, saying that democracy assistance implementers and local partners might need more time before elections and after elections to achieve more sustainable results might understandably raise some eyebrows. What program duration and funding are sufficient? The answer will certainly vary significantly from case to case, but the main point being that we might want to invest more time now to save time later. The structural gaps discussed here, if not addressed, are highly likely to reemerge in future elections, creating the need for more of the same assistance. At the end of the day, in that scenario, donors could wind up spending more and local partners may not absorb the technical expertise being provided, creating protracted cycles of assistance.
Fragile and developing democracies are natural targets of authoritarian regimes seeking to expand their sphere of influence. Especially in light of this threat, our goal must be not to simply help partner institutions around the globe to survive another election, but to create solid democratic foundations on which we can build together to shield from these authoritarian incursions. Building these foundations will invariably take time, but we can be smarter about how to invest it.
This project was funded by the United States Agency for International Development (USAID) through the Consortium for Elections and Political Process Strengthening (CEPPS). The analysis covers democracy and governance projects implemented by CEPPS from 1995 to 2019 in 18 post-conflict countries. To access the full reports, please visit: Overcoming Challenges to Democracy and Governance Programs in Post-Conflict Countries: CEPPS Lessons Learned | IFES and New IFES Report on Democracy and Governance in Post-conflict Countries | IFES
Fernanda Buril is a Research Specialist at IFES' Center for Applied Research and Learning.
Published on May 5, 2022.