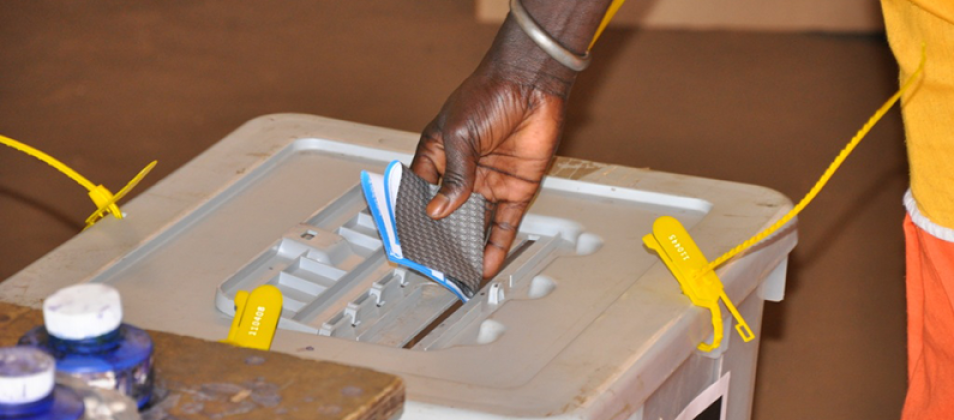 Elections to Watch in 2019
By Michael Svetlik, IFES Vice President of Programs
With each electoral cycle, the issues and debates of electoral campaigns provide insight into societies' priorities and aspirations. Electoral politics bring into focus the hopes, dreams and even fears of the people as they seek leaders to shape the future. We pay close attention to elections because of what they tell us about our neighbors, allies, opponents and ourselves. Each election is significant and consequential in its own way.
In the year ahead, several countries will experience pivotal elections in which political and electoral systems will be tested and voters will be faced with clear choices regarding substantive issues ranging from the economy, security, immigration and corruption. These elections bear watching because they reflect both current realities and future directions, be they on a domestic, regional or global scale.
As an organization dedicated to helping citizens have a voice in elections, the International Foundation for Electoral Systems is partnering with institutions and organizations to deliver electoral processes with integrity in over 25 countries around the world. Below are the elections to watch in 2019 – processes that will shape local, regional and global developments in the year (and years) to come.
El Salvador Presidential Election – February 3
Salvadorans go to the polls to elect a new president with support for the country's political establishment waning. The incumbent Farabundo Martí National Liberation Front Party was dealt a serious blow in the 2018 legislative and local elections, and San Salvador Mayor Nayib Bukele's upstart, independent presidential campaign is capturing attention among youth and swing voters. Security, corruption and migration will be central campaign issues.
Nigeria General Elections – February 16
General elections to elect a new president and National Assembly will test the political course set by the peaceful transition of power in 2015. Incumbent President Muhammadu Buhari is seeking re-election and faces a crowded field. The winner must receive a simple majority of the highest votes cast, as well as 25 percent of the votes in at least two-thirds of the country's 36 states. Risk of electoral violence, given Nigeria's ethnic cleavages and social inequalities, remains a real concern. 
Ukraine Presidential Election – March 31
Incumbent President Petro Poroshenko faces a tough re-election bid with competition from a long list of experienced politicians, including former Prime Minister Yulia Tymoshenko. Security and the economy will be foremost among voters' priorities. If none of the candidates achieve an absolute majority of 50 percent plus one, a second-round election will take place in April. Elections will not take place in Russian-occupied Crimea or in the separatist-held eastern regions of the country. 
Macedonia Presidential Election – Late March/April
Following the approval of the 2018 referendum to change the name of this former Yugoslav republic, voters will elect a new president to follow two-term President Gjorge Ivanov. Political rancor and ethnic division among the country's political forces remain rife, yet many hope that offers of accession talks by the European Union will be sufficient to end political dissension and stalemate.
Indonesia General Elections – April 17
In a first for the world's largest Muslim-majority democracy, Indonesia will elect a president, vice president, 711 members of the two-house national legislature and 19,817 members of the sub-national legislature on the same day. This massive effort will challenge Indonesia's election management system across the archipelago. Incumbent President Joko Widodo is widely expected to face strong competition from his 2014 opponent, Prabowo Subianto. There will be an estimated 320,000 candidates competing for 20,528 seats in the regional and national legislatures.   
Afghanistan Presidential Election – April 20
Against the backdrop of recent multilateral talks with the Taliban to broker an end to hostilities, Afghanistan is preparing to hold its fourth presidential election since 2001. Set to take place just six months after parliamentary and local elections, the presidential poll will test Afghanistan's capacity to conduct a credible, orderly process amid deteriorating security conditions. Any postponement would allow challenges and weaknesses exposed during the recent elections to be addressed.
South Africa General Elections – May
In Africa's second largest economy, the ruling African National Congress (ANC) faces a test following the August 2018 resignation of former President Jacob Zuma. South Africans will elect the National Assembly and provincial legislatures. With record-high unemployment and corruption allegations continuing to dog the ruling ANC, opposition parties will seek to build on gains made in local elections in 2016.
European Parliament Elections – May 23-26
With the European Union (EU) heading toward Brexit, voters in 28 member states will elect members of the European Parliament (EP) over four days. Analysts expect the populist playbook to be in full use as anti-Europe and Euro-skeptic forces will seek to capitalize on anti-immigration and populist economic sentiment. The number of EP seats decreases from 751 to 705, after the United Kingdom withdraws from the EU in 2019.
Guatemala General Elections – June
Guatemala will elect a new president, Congress and local authorities in general elections that will likely focus on the economy, reforms to the public administration, migration, and anti-corruption efforts that have divided the country over the past few years. Incumbent President Jimmy Morales is constitutionally prohibited from seeking a second term. If no candidate wins a majority in the first round, a second-round presidential election will take place in August.
Haiti Legislative and Local Elections – October 27
According to the electoral calendar, Haiti should hold legislative and local elections for one-third of the Senate, all deputies of the lower chamber of the National Assembly, and all local officials. Given the current political context, including an energized opposition and the ongoing investigation of the mismanagement of the PetroCaribe funds, the elections will further challenge Haiti's democratic institutions.
Ukraine Parliamentary Elections – October/November
In its second major election of the year, Ukraine will elect 423 out of 450 seats of the Verkhovna Rada. With the annexation of Crimea and occupation of eastern regions, 12 percent of the voting population will not be able to participate and the number of total mandates is reduced by 27. The outcome of the presidential elections earlier in the year will certainly shape the campaign dynamic and issues.
Poland Parliamentary Elections – By November
In a closely watched national election in Europe, Poland will hold parliamentary elections in which all 460 members of the Sejm and 100 senators will be elected. Local elections in October 2018 indicated a deeply divided Poland. The ruling Law and Justice Party will seek to solidify its coalition majority, while the opposition will seek to lay the groundwork for the presidential election in 2020.
Tunisia Presidential and Parliamentary Elections – December
As the Arab world's "Arab Spring success story," Tunisia will aim to re-establish political stability with presidential and legislative elections. With coalition politics having been upended over the past year and political loyalties continuing to shift, the old guard political standard-bearers will be tested. High unemployment and inflation continue to plague Tunisia's anemic economy and will be central election issues.