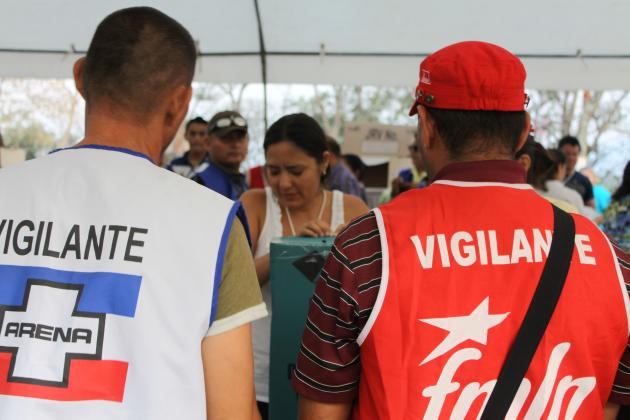 The Electoral Integrity Project's "The Year in Elections 2015"
The Electoral Integrity Project (EIP) is an independent research project based at the University of Sydney and Harvard University. For the past four years, the EIP has been bringing together scholars and practitioners from around the world to discuss effective research and how to design evidence-based programming that will increase the integrity of elections. Since the EIP's inception, the International Foundation for Electoral Systems (IFES) has been an active participant in the project. Most recently, IFES presented a paper on election audit standards at the seventh EIP workshop, which focused on best practices and strategic interventions to improve electoral integrity. We are pleased to forward on the EIP's latest report to the IFES community: The Year in Elections 2015.
The Year in Elections 2015 is a useful resource for practitioners as it highlights the key challenges election stakeholders face as they work to administer credible elections. The findings also point to several areas that we believe call for additional research: electoral legal frameworks, campaign finance, and election-related violence.
Electoral Laws
Clear legal frameworks are essential for the protection of fundamental suffrage rights, the design and implementation of effective electoral systems, and the efficient and transparent management of elections. The EIP's Perceptions of Electoral Integrity (PEI) index focuses on two key aspects of the legal framework: the fairness of electoral laws for smaller and opposition parties, and the extent to which election laws restrict or protect citizen rights. It is also fair to state that electoral legal frameworks touch upon every facet of the electoral process, from the design of the system and the delimitation of electoral districts, to the regimes governing campaign finance and the adjudication and resolution of complaints and disputes. 
Drawing on international law, best practices and comparative experience, IFES works globally with local partners in analyzing, designing and reforming electoral systems and the legal and regulatory frameworks that govern their implementation – ultimately promoting the effectiveness and credibility of democratic institutions and processes. IFES has several relevant research initiatives underway, focusing on standards and best practices for the investigative processes used to triage and manage election disputes and complaints; the effectiveness of remedies used to provide redress for election violations; and legal and regulatory frameworks for deterring and addressing the abuse of state resources in election campaigns. 
Campaign Finance
The Electoral Integrity Project, through both their Perceptions of Electoral Integrity (PEI) index as well as their work with Global Integrity and the Sunlight Foundation on integrity indicators through the Money, Politics and Transparency Project, has highlighted the complicated – and in many cases, problematic – role of money in politics, and the difficulty in effectively regulating political finance. Based on the PEI index findings this year, experts rated approximately 68 percent of elections occurring in 2016 as having failed standards of campaign finance. 
IFES believes that transparent and accountable systems of political finance that enhance the integrity of the political process and ensure a level playing field for parties and candidates are important for emerging, consolidating, and established democracies. Since 2002, IFES has worked in more than 45 countries on program activities designed to strengthen political finance regulation and oversight. It is clear from EIP's findings that more support is needed to help countries strengthen the laws governing political finance and, perhaps more importantly, their ability to enforce established rules and regulations. Several of IFES' approaches and tools, such as the Training in Detection and Enforcement (TIDE) Political Oversight Handbookand accompanying training, are designed to assist political finance regulators in fulfilling their mandate. 
Discrepancies in various corruption and integrity assessments highlight the importance of political and cultural context when assessing scores. For example, Denmark received the highest rating on the 2015 PEI index. However, this rating differs from the findings of the Group of States Against Corruption's (GRECO) 2009 "Evaluation Report on Denmark," in which there were several issues identified that compromised the transparency of Denmark's political finance system, including a lack of monitoring. A lack of progress on strengthening their system was confirmed in Article 24 of GRECO's "Fourth Interim Compliance Report on Denmark" in late 2015, which highlighted that Denmark's current compliance with GRECO's recommendations "remains globally unsatisfactory." Mr. Yves-Marie Doublet, author of the "Fighting Corruption: Political Funding Thematic Review of GRECO's Third Evaluation Round," noted, "one of the great lessons to emerge from these evaluation exercises is that in this field, perhaps more than in others, legislation and regulations can only be judged in terms of their application and their associated monitoring machinery." 
Globally, IFES partners with in-country stakeholders – including government institutions, civil society groups and media – to access various actors involved in the monitoring machinery to support effective and appropriate transparency and accountability measures. Examples of this include working with audit bodies, government agencies and judges to establish efficient control mechanisms; strengthening the capacity of local civil society organizations (CSOs) to detect and raise awareness of major campaign finance and political party finance irregularities; and conducting training for investigative journalists to strengthen their understanding of legal requirements for political parties and candidates regarding spending financial limits and disclosure. IFES is currently working to developing stronger tools to monitor the effect of corruptive forces on electoral integrity, such as the abuse of state resources, as well as effective interventions to combat their negative effects on the political process. 
Election-Related Violence
The Project's report also notes that contentious elections ignited massive protests and violence in 2015. Electoral violence may erupt in a number of ways: existing conflicts may be aggravated by electoral and political rivalries; electoral irregularities, corrupt practices, rumors, or a lack of widespread participation and access may trigger violent responses; or spoilers opposed to the electoral process or particular outcomes may act against it. Preventing such scenarios cuts across the gamut of electoral assistance that IFES provides and therefore is an integral part of all of IFES' work. 
Ensuring nonviolent elections – the aim of IFES' electoral security programming – is rooted in the protection of people and their fundamental rights and freedoms to participate in the electoral process. By placing the protection of people's rights to freely and safely engage in civic, political, and electoral activity at the center of electoral security, IFES is taking a human-centered approach to addressing election violence. IFES has developed a number of tools and approaches to address electoral security using this approach. 
IFES is well-known for Electoral violence Education and Resolution (EVER), dating from 2003. The core activities in EVER are conflict monitoring and reporting, elements that were designed with both long- and short-term benefits in mind. Understanding patterns and trends in electoral conflict and violence over time through conflict monitoring and reporting can be of great use for developing long-term prevention and mitigation strategies. In the short-term, such work can help in identifying immediate responses needed in urgent situations, as well as reduce the perception of impunity for violence by increasing public accountability for perpetrators. EVER has been implemented in Bangladesh, Burundi, Ghana, Guinea, Guyana, East Timor, Indonesia (Aceh), Iraq, Kyrgyzstan, Maldives, Nepal, Nigeria, and Senegal. 
In 2015, IFES launched the PAVE (People Against Violence in Elections)training program in Bangladesh to help civil society, community-based groups and activists, women leaders and political party members identify the root causes of electoral violence, learn how to deal with conflict in society through the electoral process, foster dialogue between opposing groups, and link these efforts with tangible initiatives to mitigate such violence. The curriculum allows participants to analyze reasons for violence, understand conflict dynamics throughout the election cycle, and learn how conflict resolution principles can be applied in this context. PAVE has since expanded to include components on community-mobilization for peace, and leadership skills. IFES is currently exploring a partnership with a leading academic institution to conduct randomized control trials to study the impact of PAVE. 
IFES also provides targeted training and capacity building to further the goal of encouraging collaboration and shared responsibility for electoral security between all stakeholders. For election officials, IFES offerings include targeted election security trainings (including a flagship simulation program to be piloted this fall), which prepares election commissions to lead and facilitate cooperation on electoral security planning and implementation, as well as protocols for crisis situations. Equally as important, IFES works with law enforcement personnel by supporting election management bodies in their training of security agencies, supporting CSO-led security dialogues with police, and directly training law enforcement on the election cycle and its unique risk factors. 
*************** 
IFES provides electoral administration and democracy development assistance around the globe, supported by rigorous research and thought leadership activities and grounded in international standards and best practices. We are dedicated to strengthening relationships with leading academic and research groups – like the Electoral Integrity Project – to improve the effectiveness of our technical assistance, and publishing new and updated handbooks and white papers to support the work of practitioners, academics, and donors in the democracy and governance community.  
While the EIP's report identifies possible areas of new research and innovation, IFES does not endorse its findings.