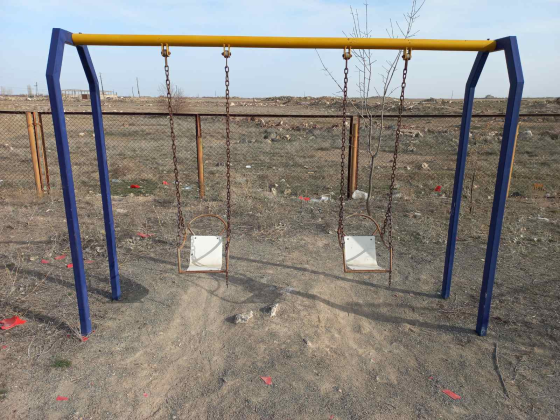 Getting Results on the Bureaucratic Merry-Go-Round in Armenia
Pull Quote Text
"The most important lesson that I learned was that anyone, any citizen, regardless of age, with the proper know-how and motivation, can address any community issue or need through perseverance and hard work,"
Credit
Engaged Citizen participant
In the remote village of Argina in Armenia, broken swing sets and seesaws never stopped children from playing at recess. The deteriorated playground was the only option they had, forcing them to risk their physical safety for outdoor recreation. 
The worn-out equipment enclosed by a rusty fence was seen as the status quo until Lilit Petrosyan, a member of the community who left to study at the Armenian National Agrarian University, took action as part of the Engaged Citizen university course. 
"I had noticed the deteriorated state of the playground for quite some time, and this always saddened me," Petrosyan said. "I couldn't do anything about it because I didn't know what to do, where to go, or whom to ask." 
With the support of the course, Petrosyan reached out to the mayor's office to rebuild the playground. The mayor was hesitant about the project due to the lack of funds. She turned to her university to start a fundraising campaign but was denied permission. 
Petrosyan then launched a fundraising campaign in her village, but nobody had the means to donate. Discouraged, she didn't know where to turn. But her teacher, Hasmik Simonyan, provided her with a renewed sense of confidence when she encouraged her to request funds from higher-level government officials. 
"After participating in the Engaged Citizen course, I was introduced to all the means and ways and with the help of my teacher, Ms. Hasmik Simonyan, she found the confidence in me to reach out to different government officials and request that a solution would be provided to my community issue," she said. 
With the support of her teacher, Petrosyan wrote a letter to the governor of Armavir. And then to the Prime Minister's office. As the weeks counted down to the end of her university course, she received no responses. 
Petrosyan still felt a responsibility to see the project through despite the end of the course. In July, she personally delivered a letter to the Office of the Chief of Staff of the Prime Minister, doubting she would hear back. 
Just a few weeks later, after the office acknowledged her letter, she received a response from the mayor of her village. He would fund her project. 
"The most important lesson that I learned was that anyone, any citizen, regardless of age, with the proper know-how and motivation, can address any community issue or need through perseverance and hard work," Petrosyan said.  
The Engaged Citizen is an interactive and innovative civic education course, made possible by the support of the United States Agency for International Development (USAID) as part of the Strengthening Electoral Processes and Political Accountability in Armenia (SEPPA) project implemented by IFES.