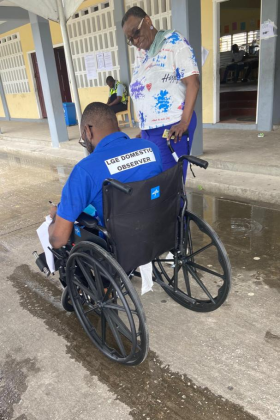 A Historic Mission: Making Guyana's Elections More Inclusive
Pull Quote Text
My hope is that the future elections have some more measures in place that will ensure that persons with disabilities can vote independently
Credit
Director, Guyana Council of Organisations for Persons with Disabilities (GCOPD)
At 6 a.m. on the day of local elections in Guyana, Holly observed election workers opening what would be the first of over a dozen polling stations she would go to throughout the day. Clipboard in hand, she noted obstacles for persons with disabilities that have become all too normal for her on election day.  
This was the first election day that Holly stayed out from open to close to observe elections as part of Guyana's first-ever election access observation, supported by USAID through the Youth Advocacy, Linkages, and Leadership in Elections and Society (Youth ALLIES) program. In 2019, Holly became a wheelchair user, and in 2020, when she went to vote, she couldn't cast her ballot independently.  
"The previous election I was able to get up and not think about it," Holly said. "I had to get assistance for people to help me vote, the path was broken, and the staff didn't know how to help a person with limited mobility....it was a tedious and anxiety-filled process."  
Holly's experience is like thousands of other persons with disabilities in Guyana. Ganesh Singh, the head of the Guyana Council of Organisations for Persons with Disabilities (GCOPD), said the reason why he organized an election observation mission to assess accessibility is rooted in barriers that have become normalized.  
"Most of our public buildings are not wheelchair friendly. And these are the buildings that are used by the Guyana Elections Commission as the polling places on election day," Ganesh said. "So that would mean access to the building itself, and if you can't access the building, you definitely wouldn't be able to access the washrooms."  
The mission, led in partnership by GCOPD and the International Foundation for Electoral Systems, deployed 42 observers to more than 560 polling stations. What they found was a range of significant barriers that persons with disabilities face when participating in the electoral process in Guyana.  
About 55 percent of polling stations and 80 percent of registration sites had stairs, with only 12.3 percent and 28 percent, respectively, equipped with ramps. People who are blind are not able to vote independently since there were no tactile guides or other assistive devices. And only about half of polling stations had obstacle-free paths to the voting booths.  
"One of the compounds didn't have any parking for wheelchair users so you had to basically park on the side of a busy main road, risking traffic," Holly said about the polling stations she observed. "In one polling station, located in a private residence, there was no washroom, so voters who must wait couldn't use the restroom."  
Lata, an election observer who has never been able to vote independently, said that because of these barriers, persons with disabilities find it too stressful to come out to vote.  
"The people in authority need to pay attention to this," Lata said. "If they want our elections and democracy to be inclusive, they need to be accommodating to us."  
Ganesh said that with this hard and conclusive evidence, he hopes that policymakers will become more serious and receptive about making elections more inclusive and accessible.  
"My hope is that the future elections have some more measures in place that will ensure that persons with disabilities can vote independently," Ganesh said. "The information we gathered here will help us reinforce our argument that the process doesn't promote independent voting because if you've got to depend on someone, that's not secret, and it's a violation of the rights of people with disabilities."  
The election access observation was made possible by the generous support of the United States Agency for International Development (USAID) through the IFES-implemented Youth Advocacy, Linkages, and Leadership in Elections and Society (Youth ALLIES) program.