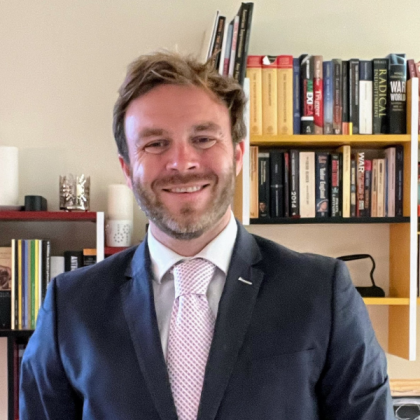 IFES Announces Richard Nash to Head Center for Anti-Corruption and Democratic Trust
The International Foundation for Electoral Systems (IFES) announced that Richard Nash will be the new head of IFES's Center for Anti-Corruption and Democratic Trust. Nash began the role on April 24. 
As Director of the Center, Nash will provide thought leadership and strategic direction while overseeing the Center's cutting-edge programming. Under Nash, the Center will continue to be at the forefront of programming that halts the abuse of state resources, supports electoral dispute resolution processes, and improves government transparency and accountability. His expertise will strengthen the Center's unique mission of raising awareness and combatting the threat that corruption poses to global democracy. 
Since it was founded in 2003, the Center has improved the ability of democracies to deliver for all people through cross-sectoral anti-corruption initiatives. Serving as an incubator for new partnerships and global initiatives, the Center addresses pervasive forms of political and electoral corruption. 
"Democratic legitimacy is impossible without trust in elections and public institutions. As many governments face declining trust, global democracy faces a crisis," IFES CEO and President Tony Banbury said. "I am pleased to welcome an anti-corruption and governance expert of Richard's caliber so that the Center can develop new, innovative transparency and accountability methods to address the global democratic trust deficit." 
Nash brings a wealth of knowledge and experience to the Center. He joined IFES in April as Senior Global Advisor for Anti-Corruption from Research Triangle Institute (RTI) International, where he served as the Senior Governance and Corruption Advisor, contributing to training and programming at the intersection of corruption and development. His leadership and expertise advanced the organization's understanding of the role social norms play in corruption in countries spanning the Americas, Africa and Europe and Eurasia regions.  
Before RTI International, Nash served in various governance roles. At the World Bank Group, he improved the legal and financial oversight of the financial sector in Afghanistan and led the response to the Kabul bank collapse, one of the largest fraud schemes in recent history. He went on to lead counter-fraud and anti-corruption efforts in Somalia for the UK Department of International Development, leading the UK's support for the first elections in 2016 since the collapse of the government in the early 1990s. In that role, he also led donor efforts to support a constitutional requirement for a gender quota in Somalia's parliament and helped roll out biometric voter registration for the 2017 presidential election.
Nash holds a master's degree (LLM) in law and development and a postgraduate diploma in law from the University of London, and a bachelor's degree in History from King's College London.