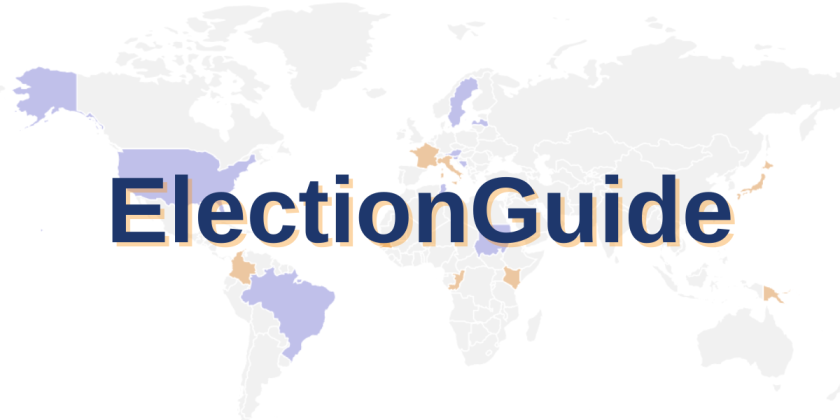 IFES Launches Updated ElectionGuide.org
The International Foundation for Electoral Systems' (IFES) ElectionGuide.org is the most comprehensive and timely source of election information available online. It includes regularly updated information on national-level elections in 240 countries from the year of its founding in 1998 through the present, including snap elections and referenda. This resource provides verified information on: 
The structure of political institutions and electoral systems;
Political parties and candidates;
Voter registration deadlines and details;
Referendum provisions;
Voter turnout; and
Election results.
In 2019, IFES expanded the scope of data collected in ElectionGuide, began making more frequent data updates and instituted a multi-step verification process for all information included. In 2022, IFES published its first data codebook, containing details about the data generation process, data access options and the definitions and availability of each data point in the resource.  
Ways to Access ElectionGuide Data
ElectionGuide data is a public good that is available in multiple formats. Information about upcoming and past elections is openly available on the website, organized by election and by country. Registered users can also download CSV files containing the full set of data points for each individual election. Alternatively, registered users can download CSV files containing a subset of data points for all elections held since 2018. ElectionGuide now also features a modern API to provide developers and researchers access to up-to-the-minute information.
To register for a user account or to acquire an authentication token and curl link to access the API, please email ElectionGuide@ifes.org with the subject line "Create User Account" or "Accessing API." Please consult the codebook to learn more about the information available in each format.
Research Process and Verification
ElectionGuide is maintained by IFES' Center for Applied Research and Learning. The team ensures the consistency and accuracy of ElectionGuide both before and after an election. Elections are identified up to one year in advance. Complete profiles of elections are typically available two weeks before an election is held. Election results and turnout information are available as early as two weeks after an election has been confirmed. The ElectionGuide team provides daily updates to the site as new information on upcoming and recent elections is announced. 
Our methodology relies on well-established data collection standards, objective analysis and strict verification procedures. Each election profile is reviewed and verified by at least one external authority including election authorities, other governmental agencies and civil society organizations, in addition to our experts.
Initial support from the U.S. Agency of International Development (USAID) and further support from Meta have made ElectionGuide possible.
Please contact ElectionGuide@ifes.org with any questions or comments about the site or its contents, the codebook or to create a user account.